IMG U-18 Boys Host Kansas City Wizards
February 24, 2009
by: IMGSoccer1
On February 11, 2009 at 10:am, the IMG U-18 boys stepped onto the field to face Major League Soccer's Kansas City Wizards. Both teams familiar with the territory as home to the IMG players and pre-season home of the Wizards for the past 4 years, the match was made as a friendly, learning experience for both teams involved.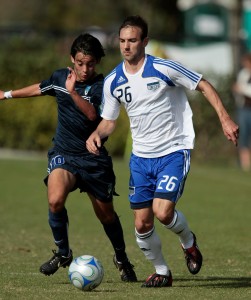 As coach Tom Durkin prepared a detailed, well strategized pre-game plan, the game rested in the hands of his players. As the first whistle blew, Kansas City demonstrated their professional skill and quickly took control of the game. Immediately on their heels, IMG did all they could to stay composed and not panic at the hands of their opponents but soon realized that it would take more than a well structured game plan, to compete at this level. The speed of play, structure, movement on and off the ball, physical presence and team discipline was a constant factor for IMG the entire 90 minutes.
At the end of the day, as the final whistle blew, both teams shook hands with the final score Kansas City 7, IMG 1. What better way to learn what it takes to make it at the next level than to step on the field and experience it for themselves. A hard fought match, a lesson learned and an experience they will never forget.
As the MLS preseason rolls on and the IMG players continue to train and compete, we thank Kansas City for the opportunity to play with the best here at IMG Academy, "where players train."