Flashback Friday
February 27, 2009
by: The Leadblogger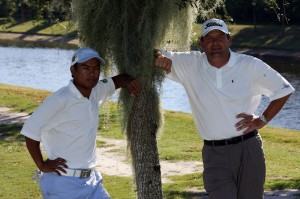 Chanin "Top" Puntawong was a DLGA Full Time student from September 1999-May 2006. While here he was honored asa Three Time AJGA All-American. He won four times on the AJGA Tour withTwo wins in 2001 (AJGAAll-Star at Cimarron and AJGA Rome Classic)and Two wins in 2003 (AJGA Blue Grass and AJGA Hargray Jr).
Top also shot a record 61 at the 2003 Thailand Open. At the time that set the course record, the tournament record as well as the Asian Tour record). At the time he was 16 years old!
Top currently is working at DLGA (since September 2008) as an Assistant to the Director of DLGA, David Whelan. Top helps assist with David's full time students. Top is preparing to go to the 2009 PGA Tour School.
Top says, "My experience here at theacademy now has helped me become a better person and a better golfer."!