Payne Sisters Selected to Adidas ESP All-Star Team and U-17 Womens' National Team
February 27, 2009
by: IMGSoccer1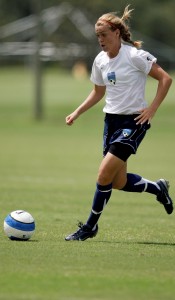 In their first season coached by IMG Alumni Giovanni Fernandes, Sidney and Shelby Payne have taken their games to another level. Their contributions to the team and commitment to each other, as sisters, has made the Payne name familiar in the soccer community.
This years Adidas ESP Girls Camp took place at Cal Poly University, CA. As a grand finale, the top 36 girls in the country were named to the Adidas ESP All-Star team and put on a show for the crowd in an East vs. West showcase. Sidney and Shelby were the only two juniors acknowledged with this honor.
In addition to the All-Star Game, the Payne sisters were also selected to the U-17 Women's National Team. Coached by Kazbek Tambi, the girls will report to camp Saturday Feb. 28th at the Home Depot Center in Carson, Ca. All in all, it's been a good week for the two sisters
The Payne's entered IMG with high expectations and previous National team regonition. With experience competing at a high level, they were no stranger to hard work. Coach Fernandes has done a stellar job constructing his team and has had much success, winning the U-19 CDL Championship, The Orange Classic and placed runner-up in North Carolina's Score at the Shore.