A few thoughts from Jordan Rizzo
March 04, 2009
by: The Leadblogger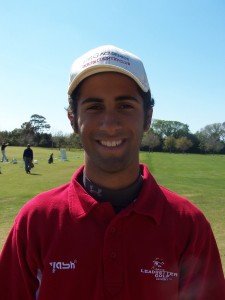 Jordan Rizzo was born and raised in Sarasota, FL. Jordan feels like he is the hometown kid and wants to set a good example for the local golfers here in Sarasota.
Jordan has been a David Leadbetter Golf Academy student for the last 5 years and will be graduating from The Pendledon School on June 5th, 2009. He has verbally committed to play for the University of West Florida this fall. He has had the opportunity to work with Senior Instructor David Madras for the last 4 ½ years. They have developed a great understanding of each other and work well together.
We sat down with Jordan to ask him about his experience at the academy.
Jordan, what has this experience been like?
"This is one of the best experiences of my life. It is an experience that will benefit me for the rest of my life."
Jordan, tell us about a life lesson you learned here.
"It is definitely about understanding people."
Jordan went on to say that he has learned how different each person is, he has learned to look past our differences and to listen to what others have to say. He said in the end, "we all have a common purpose."
He said he has learned to accept people for who they are, not where they come from or the clothes they wear.
We asked him in his words how he would describe the academy
"DLGA is a melting pot of cultures, of different golf games. It is the best place in the world to learn about yourself and to learn about others. At the academy you learn to respect and to listen to people. It is pretty awesome"!
We asked him how he has developed as a person during his 5 years here.
" I have developed values and a work ethic that will stay with me forever."
When asked to describe his golf highlights, he said:
"I have an improved understanding and awareness of the golf game and my golf swing."
We asked Jordan what he felt his strengths as a person are:
"Understanding, Work Ethic and Patience"
Jordan's Favorite quote
"Whether you say you can't or whether you cay you can, no matter what, your right."