Sky Sports visits the David Leadbetter Golf Academy at IMG Academy
March 04, 2009
by: The Leadblogger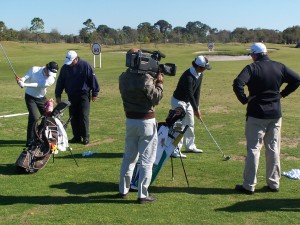 Sky Sports came to the David Leadbetter Golf Academy on Tuesday, March 3rd to talk to 3 of our young rising golf stars. Sky sports wanted to get from the student's perspective what a day in the life of being a golfer here at the academy includes.
Sally Watson, Tanapol "Petch" Vattanapisit and Shang "Ken" Zhi were the featured golfers. Each one took a few minutes as a host and talked about the different facets here on campus.
Sally is a 2009 grad who will be entering Stanford University in the fall. Sally was a member of the 2008 GB & I Curtis Cup Team and was the recent repeat Champion of the FCWT Leadbetter Challenge (2008 and 2009 champion). Sally has been a full time student here at DLGA for 3 years under the instruction on Senior Instructor, Kevin Collins.
Ken is also a 2009 graduate who will be attending the University of Minnesota in the fall. Ken is in his second year of working with Senior Instructor; Malcolm Joseph and is originally from Zhenzhen, China. Ken recently won the 2009 FCWT Leadbetter Open with rounds of 71-71 for a two-under-par total of 142.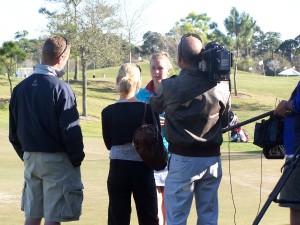 Petch is also in his 2nd year at the academy and works with Senior Instructor Andrew Oliphant. Petch is from Bangkok, Thailand and is a 15 year-old sophomore at The IMG Academy School here at IMG Academy. Petch has a few wins on the Future Collegiate World Tour. He won the 2008 FCWT IMGA/DLGA Championship shooting rounds of 71-67 for a 138 total and the 2008 FCWT Mission Inn Las Colinas Open with a 5-under-par total of 139 (72-67).
Stay tuned in for more on the Sky sports feature in a later blog entry.