A few thoughts from Doris Chen
March 05, 2009
by: The Leadblogger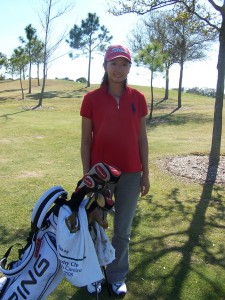 Doris ChenDoris Chen, from Taipei, Taiwan has been a David Leadbetter Golf Academy student for 3 years. She works with Academy Director, David Whelan on her game.
Doris is currently ranked in the Top 25 in the country. She is a 2011 grad.
Here are a few of Doris's thoughts......
Hardest part of coming to the academy
"I was scared." I didn't know anybody, I didn't speak English and there weren't many Chinese speaking students here to talk with. It was hard to learn English."
How is playing different here in the US compared to Taiwan?
"In Taiwan we have female caddies. They use a cart that fits 4 bags on it, so 4 people share 1 caddy. We do not carry our own bags in Taiwan."
How are tournaments different in the two countries?
"In Taiwan, there are maybe 200 junior golfers. So you see the same people and the same golfers win the tournaments. Here in the US, there are many, many junior golfers and you never know who may win."
How would you describe the David Leadbetter Golf Academy at IMG Academy?
"It is a good environment to practice golf. It is a good place to meet international people and to learn about different cultures and languages. It is a place to learn how we are different, but also how we are the same."
What have you improved in your game?
"I have improved my swing, my mental game and my results."
Doris's Tournament wins over the years
2008 AJGA Mizuno Jr. at Innisbrook 70-74-68=211
2008 FCWT Innisbrook Open 73-79-71=223
2007 FCWT University of Florida 67-71=138
2007 AJGA Taylor Woodrow 78-70-66=214
2007 FCWT Mission Inn Classic 71-72=143
2006 14th Annual CJGA World Jr. Golf Challenge 72-76-75=223
Goals for this year
To finish in the Top 10 of the US rankings (currently 22)
To hit the ball farther
To improve around the green
Hardest Golf course
Victoria Manor National in Indiana
Dream Foursome
Yani Tseng, Paula Creamer and Lorena Ochoa
Favorite Music Artist(s)
Justin Timberlake
Kelly Clarkson
Taylor Swift
Favorite Movie
Lord of the Rings (The Two Towers)
Favorite Books
Davinci Code
Angels & Demons
The Kite Runner
Favorite US City
Los Angeles