The IMG Academy School baseball team ranked in Pre- Season Poll
March 05, 2009
by: IMG Baseball Academy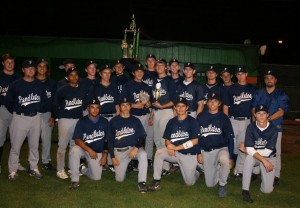 Perfect Game Crosschecker released their 2009 Pre-Season Top 100 High School Teams. The IMG Academy School ranked 42nd in the nation, highlighted by University of Miami signee JR Murphy. Other key players to note include senior RHP/OF Blaze Tart, who is a UNC Wilmington commit, junior RHP/ OF Casey Mulholland, junior RHP/1B Jimmy O'Neill, and junior shortstop Dillon Moyer, son of Major League pitcher Jamie Moyer.
The team looks to improve on their ranking after a big win against 34th ranked Cardinal Mooney. Currently the team is 8-0. Rankings will be updated every two weeks.
You can following the IMG Academy season by checking out our "Varsity Game Recaps". Stay tune for more updates!