Julieta Granada trains at DLGA/IMG
March 12, 2009
by: The Leadblogger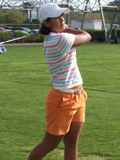 Julieta Granada continues her training this week at the David Leadbetter Golf Academy at IMG Academy in Bradenton, FL.Julieta is preparing for next weeks LPGA Mastercard Classic being held at the 6,892 yard, par 72 BosqueReal Country Club in Huizquilucan, Mexico. Julieta's mom, Rosa, also makes the daily trip as she too needs to keep up with Julieta's game. As Rosa caddies each week for Julieta out on tour.
While here, Julieta, is working with Senior instructors David Madras and Scott Bettger on her golfgame in preparation for next weeks LPGA event and ultimately the first major ofthe year, The Kraft Nabisco held at the end ofMarch.Julieta is also working with Steve Shenbaum of Game On, Trevor Moawad of Mental Conditioning and Corey Stenstup all part of the IMG Team. Julieta understands the importance and balance of allaspects of the game.
Julieta leaves on Sunday to make the trip to Mexico.....we wish her the best of luck!
Julieta is armed with new clubs, a new swing and a great outlook going into next week's event.