Phillies' Moyer, 46, inspires his family, too
March 12, 2009
by: IMG Baseball Academy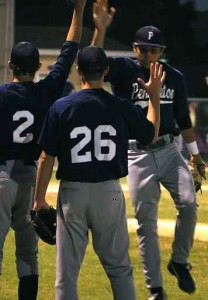 You would think that at the age of 46, one would need some rest and relaxation after spending 8 hours at the ballpark. But the highlight of Jamie Moyer's day begins at 7:30pm when he gets to watch his kids play. And on this particular evening, Jamie was watching his son Dillon play shortstop for The IMG Academy School at the IMG Academy baseball program. Also taking in the game was Jim Salisbury from the Philadelphia Inquirer who happend to be in the area covering the Phillies spring training. Jim, intrigued by the Moyer story line, quickly put pen to paper and the article was front page news in the Philadelphia Inquirer. A sample from the linked article.
So what did he do on a recent Friday night out?

He stood behind a chain-link backstop at a high school field down the street from the Phillies' training complex and took in a game, of course.

"This is the highlight of my day," the Phillies pitcher said. "I love watching my kids play."

On a chilly late February evening, Moyer, wearing jeans and a red St. Joseph's University pullover, watched his oldest son, 17-year-old Dillon, play shortstop for the IMG Academy School in a game against Clearwater Central Catholic High School.

Dillon's road to the leadoff spot in IMG Academy's lineup started last spring when he visited the school in Bradenton, Fla., with his parents and younger brother, Hutton, 15. At the time, the family made its home in Seattle, and Dillon and Hutton, the eldest of seven Moyer children, were immersed in school and athletics there. Dillon was a blossoming quarterback with a chance to start at O'Dea High School. Hutton was a soccer standout.

But it was their first athletic love - the one inherited from their father - that drew the Moyer boys to IMG Academy.

"We got in the car after visiting the campus, and Dillon said, 'I'd give up football to play baseball here,' " Jamie Moyer said. "His brother chimed in, 'Me, too.' "

IMG Academy is an independent college preparatory school affiliated with IMG sports academies. It sits on IMG's 300-acre campus, which is bursting with academic and athletic activity. The school has about 450 students, most of whom spend their afternoons specializing in a sport. The IMG academy offers programs in tennis, golf, basketball, soccer, swimming and baseball.

The Moyers bought a home in Bradenton, and the boys enrolled at IMG Academy and the IMG Academy baseball program in the fall. Dillon, a junior, plays for the varsity team. Hutton, a freshman, is an infielder on the junior varsity.

"They love it," Jamie said. "We're here to allow them to grow as baseball players and see where their skill takes them."

Being able to play every day in warm weather was a big draw for the Moyers.

"Spring baseball in Seattle is tough," Jamie said. "You don't get a lot of repetitions because of the weather. And being around the game as long as I have, I realize how important reps are."
As a junior, Dillon has provided an immediate impact. Head Coach Kevin Sharp went on to explain "Last years shortstop [Tyler Pastornicky> was drafted in the fifth round by Toronto. We had a huge hole there, and it was a concern because we have three pitchers who are Division I prospects and draft candidates. We needed someone to come in and make every play behind them. That's Dillon."
"Dillon is a definite Division I prospect," Sharp adds. "He's a throwback player. He makes every play. He can handle the bat. He's savvy and mature. He has the best instincts I've seen in a kid his age. You can tell he's been around the game his whole life."
Dillon is setting the table nicely as the teams lead-off hitter. He has a.414 avg. through the first 10 games with a .564 On Base %. His play is a big reason the team is off to a 10-0 start.