IMG Academy baseball program Underclassman Stands Out!
March 23, 2009
by: IMG Baseball Academy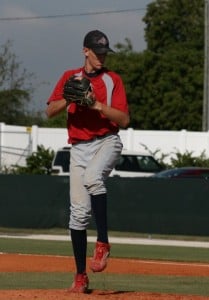 Junior RHP/OF, Casey Mulholland, has been named to the Perfect Game USA Pre-Season Underclassmen All-American Team. Casey is one of sixty players from around the country to receive this honor. The junior standout has called IMG Academy baseball program home since his freshman year of high school.
"Seeing the training and knowing the coaches really made me want to pursue baseball," said Mulholland. "Baseball, school and IMG really consumes your life. It's like a college, and it's definitely worth it," added Mulholland.
Mulholland is off to a great start this season with a 3-0 record, 1 save and a 1.84 ERA. He has recorded 38 strike outs in only 19 innings of work. The 6'4" 170 lb right hander features a plus fastball in the low 90's with a good curve and change up.