In my opinion....
March 24, 2009
by: The Leadblogger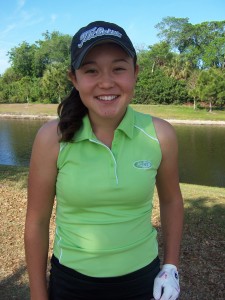 In My Opinion.......(by Sophie Hayashi)
golf has given me the chance to establish myself and make myself unique. It gives me a reason to push myself everyday. I have become a much more independent, mature person through golf.
junior golf is a great experience to meet people that I will see again in my future - like in college or on the LPGA tour. I learn something every time I play junior events. It is extremely competitive.
competing and playing with top junior golfers at the David Leadbetter Golf Academy on a daily basis pushes me to be better, work harder and it also shows me that I can attain a high level of golf through hard work. Being here at the academy teaches me what it takes to become the best.
golf is a game that I love more than any other sport. It can bring me up and beat me down, but at the end of the day I will always love it.
living here at IMG Academy is a very driven and focused lifestyle that requires 100% effort everyday. After each day I go to bed feeling as though I have accomplished something. I wouldn't trade this experience for anything in the world!
training at David Leadbetter Golf Academy is a great learning experience. Not only are all the coaches helping me to get better, but I also learn from the best junior golfers in the world. I can ask them questions and I always get great advice.
to get better I need to take things one step at a time, work hard, stay patient and believe in myself.
my game is my own. It is a reflection of who I am as a person. As I grow and learn as a person, my game improves as well.
Sophie Hayashi, from Carmel Indiana, is a first year student at the David Leadbetter Golf Academy at IMG Academy. She maintains a 4.1 GPA at the IMG Academy School and is a 2010 graduate. Sophie was the 2007 Individual Indiana girls highschool state champion, the 2007 and 2008 Diet Dr. Pepper Tour Champion as well as the 2007 and 2008 Indiana Westfield PGA Section Qualifer Champion.