Jecius completes 2-week training at IMG
March 31, 2009
by: bscheall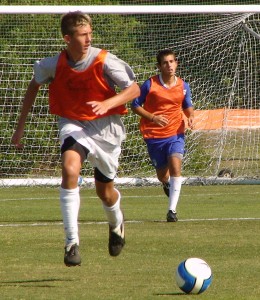 Every week The IMG Academy soccer program attracts players from all over the world to train at world-class facilities and elevate their game to the next level. This past week Hunter Jecius, a native of New Mexico, spent two weeks at IMG developing his game and caught the eye of IMG staff coaches while making a strong impact throughout his short stay. Jared Vock, an alumnus and current U-15 boys coach at IMG, helped oversee Hunter's training.
"Hunter has good feet for someone who is of a large physical stature," Vock said. "He has a great attitude and strong work ethic which will definitely take his game to another level."
Reflecting upon his experience, Hunter took a few moments to speak abouthis experience at IMG:
How long did you attend IMG?
2 weeks.
Where you are from?
Hobbs, New Mexico.
Why you came to IMG?
To reach the next level of my soccer game.
How your game is improved?
Mental game mostly, but still a whole lot of my physical game as well. I am much more fit, I have a better touch and can do better things with the ball.
Best experience here?
My mental conditioning sessions with Josh Lifrak. He really helped me and I think I much better because of it.
What does IMG mean to you?
IMG means a place that improves your game all around by individual and team training.
Hardest obstacle to overcome?
Confidence. If had the same confidence I do today, I would be much better off.
What's next?
I'll go back home and use what I learned here. Practice, practice, practice. I will start doing the little things and hopefully go big in soccer.