Musings from IMG Academy baseball program pitching coach Steve Frey
April 01, 2009
by: Dan Tierney
Steve Frey, who pitched for eight years in Major League Baseball, now serves as the pitching coach for the IMG Academy baseball program Academy. Frey offered some thoughts on his playing days and IMG.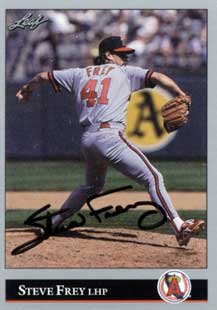 On the toughest batter... Tony Gwynn. I know I helped him get to the Hall of Fame. He didn't have any holes in his swing. He was the epitome of a pure hitter.
On the wildest teammates he's had... Bert Blyleven's up there. I went through probably 25 shoelaces because was always lighting them on fire. Chuck Finley had an outgoing personality. Pascual Perez was a character. They're all good guys, though.
On his best on-field memory... Probably my first big-league win. I was playing for Montreal and got called up for a game in Philadelphia (Frey's hometown). I would venture to say there were 40 or 50 friends and family members there for the game.
On his favorite players... Al Hrabosky, The Mad Hungarian. I used to watch him all the time growing up. I even tried to emulate his Fu Manchu, but mine wasn't as bushy. Today, I like to watch guys that have been around a while and can still pitch, like Tom Glavine or Jamie Moyer. I like Roy Oswalt. Jake Peavy. Randy Johnson. I really like the pitchers who work on location and movement, rather than guys just blazing it in.
On his career batting record of 0-for-4 with one walk... One year, I had a hit that drove in two runs. It was a 3-2 count and I came out of my shoes swinging so hard. It was a soft liner over the second baseman. Of course, it was only a spring training game. I did hit a ball really hard one time. When it came off the bat, I thought I had a double. They were playing shallow and I watched Willie McGee catch it over his shoulder.
On what drives him every day since arriving at IMGA in 2004... You have to love what you're doing. I, obviously, love the game of baseball. I enjoy being around the kids. I enjoy teaching. I can communicate with the kids. Everybody has a different gift they can bring to the game of baseball, and I believe kids need to learn more than just the physical aspects.
On the best thing about IMGA... In one word: atmosphere. To call this a job is almost comical. Obviously, there are a lot of responsibilities, but it's just fun here. I can't ever say that I don't enjoy coming to work.