DLGA travels to California
April 02, 2009
by: The Leadblogger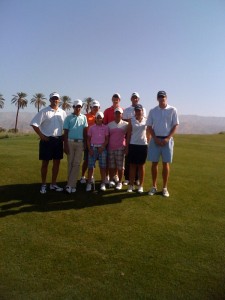 DLGA students headed West yesterday to participate in the 2009 FCWT Terra Lago Open in North Indio, California. The Golf Club at Terra Lago was established in 1998 and played host to the 1999 - 2002 PGA Tour Skins game. The Golf Club at Terra Lago presents 36 challenging holes that twist and turn through the Indio, Chocolate Mountain foothills. The dramatic elevation changes, stunning views, and undulating greens makes The Golf Club at Terra Lago a truly unique experience.
The decision was made to travel so far from the academy simply to give the students the opportunity to play against different competition, to experience different course conditions and to learn to play in different conditions. Instructors Jay Denton and Jason Suedhof are with the 8 DLGA students that made the trip and will be helping them get acclimated to the different course conditions and the weather.
DLGA students Daniel Jaramillo, Rigel Fernandes, Dottie Ardina, Cecile Krefting, Manik Singh, Sean Van Aken, Guan Huang and Jordan Lippetz all made the trip out west. Look for Daniel and Rigel to make an impact in the 13-15 age group and expect Dottie and Jordan to make a push in the girls division.
The 36 hole competition will take place this weekend, April 4 and 5th.