Ultra-successful IMG Academy soccer program Director helps shape program
April 03, 2009
by: Dan Tierney
Courtesy of the IMGA Marketing Department
Tom Durkin doesn't only remember when he realized his calling as a head coach, but recalls the exact situation against a specific team nearly 40 years ago.
Playing for his recently formed high school team outside of Philadelphia, PA, Durkin's school had conceded three goals on three corner kicks, when Durkin pleaded with his coach to change defensive tactics. The coach left, and Durkin took over.
"I re-shuffled the team myself... and we were tied by the half," said Durkin, now 53 years old and the IMG Academy soccer program Director. "I knew at that moment that I would be a coach."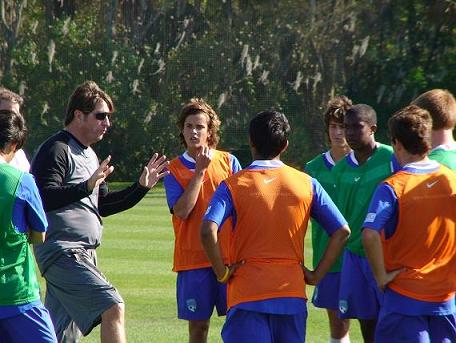 In 11 years, Durkin has taken the Soccer Academy from 23 total players to six boys' and five girls' teams that represent some of the top youth clubs in the world. The boys' under-19 team has won the Dallas Cup - widely known as one of the premier youth tournaments worldwide - in 2005 and 2007. Girls' and boys' teams have both dominated in-state tournaments for years.
For Durkin, though, the team success is secondary and only a byproduct of what IMG strives to do with player development.
"Don't get me wrong, I held that (first Dallas Cup) trophy all the way back," he said. "But we're trying to build players. Winning is secondary."
The Soccer Academy under Durkin's direction has produced talent nearly unmatched from any other domestic club. Current stars like DaMarcus Beasley (Rangers F.C. in Scotland and U.S. Men's National Team), Michael Parkhurst (Danish league professional and USMNT), Heath Pearch (F.C. Hansa Rostock in Germany and USMNT) and dozens of other future Division-I and professional players have all competed at IMG.
Kurt Morsink, currently a Kansas City Wizards midfielder, remembers seeing Durkin's intensity and passion for the game immediately after arriving to IMG as a teenager.
"Tom is, for me, one of the best coaches in the U.S. at any level," Morsink said. "He knows so much about soccer, and he really wants to share it with people."
At six years old, Durkin experienced what some would consider the Mecca of soccer when his parents moved to Brazil. To that point, he had barely seen a soccer game, let alone played. The first day in Brazil, he went to a professional match at the stadium across the street. Soon, he began playing soccer in the streets with local kids, who immediately stuck him at goalkeeper.
"At first, they hit everything right at me - I guess trying to build up my confidence," he remembers. "The next day they shot everything everywhere but at me and I gave up about 17 goals. I never played keeper again, and from there, I was obsessed with mastering the game."
Durkin's family eventually moved back to Pennsylvania, and he continued to play through high school and college as a midfielder. He played in a semi-pro league for a while, but options both domestically and broad were limited for American players.
Soon, Durkin began coaching youths, while teaching or painting or doing construction - basically anything to pay the bills. Eventually, Durkin carved out a career that went places from men's head coach at Rutgers University to assistant coach of the now-defunct Tampa Bay Mutiny (formerly of the MLS).
After arriving in 1998, Durkin helped shape the IMG Soccer Academy into the powerhouse that it is today. Teams from Miami that would trounce IMG in the first few years now commonly fall to IMG.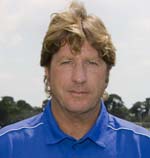 "Whenever our kids would play those teams, our players would shake," Durkin said. "Now, other teams hear IMG and they shake."
Morsink, who still works with the Athletic & Personal Development program Director Trevor Moawad, credits much of his development to Durkin and IMG.
"IMG is just unbelievable," Morsink said. "At the age of 15 or 16, I don't think you realize how blessed and privileged you are to be there. It's a once-in-a-lifetime experience."
For Durkin, the hard work from the first few years at IMG is now paying dividends.
"When I started here, people said it can't be done," he said. "We do the best we can with the players we have. I tell the players, 'Find your potential and don't dip beneath that."
For more information on Durkin or IMG Academies, please see www.imgacademies.com or contact Dan Tierney at dan.tierney@imgworld.com.