Tanaporn "Mint" Kongkiatkrai wins for the 4th time!
April 06, 2009
by: The Leadblogger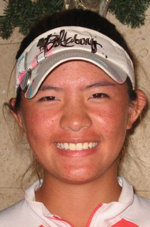 David Leadbetter Golf Academy (at IMG Academy) student, Tanaporn "Mint" Kongkiatkrai from Thailand, earned her 4th win of the season on Sunday at the FCWT Golf Club at Bridgewater event in Lakeland, FL. Mint, a 2011 graduate, opened the tournament on Saturday with a four-under par 68 to open with a 5-shot lead over fellow DLGA student Maribel Lopez of Colombia. Mint closed on Sunday with a one-under par 71 with a round that included four birdies on the back nine.
Mint's four FCWT wins (Naples, Champions Gate, Innisbrook and Bridgewater) puts her in the top 10 overall in the All-American point standings. Mint also has a 4th and 5th place finish on the tour, which compiles a 71.58 stroke average.
Maribel Lopez finished four shots behind Mint for 2nd place shooting rounds of 73-70 for a one-under par 143 total. Another DLGA student, Katerina Prorokova, had her best finish of the season, finishing in 5th place with rounds of 74-77.