Nine Core Values.....by Joe McKenney
April 07, 2009
by: The Leadblogger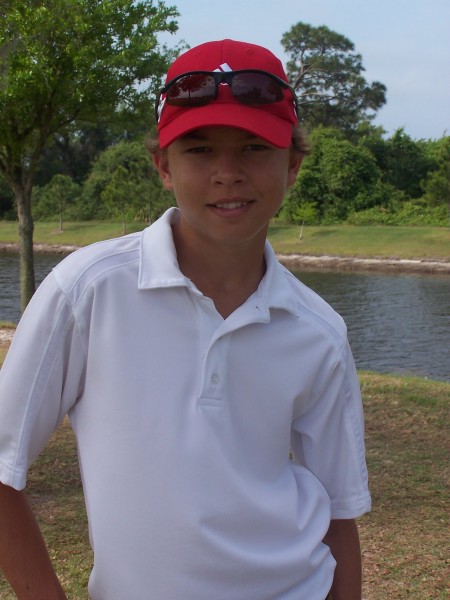 Joseph McKenney is a junior at the IMG AcademySchool andis finishing his third year at the David Leadbetter Golf Academy at IMG Academy. Joe was awarded with the Paula Creamer/First Tee Scholarship to attend DLGA. Joe says of the award... "I have one big reward that I get every year for working as hard as I can, and that is the opportunity to come back each year to DLGA on a scholarship from Paula Creamer and the David Leadbetter Golf Academy at IMG Academy. I could not ask for a better reward than that. Maybe someday my hard work will inspire someone else to be the best they can be."
Beloware a few thoughts from Joe on his First Tee experience and how it correlates to the game of golf.
The First Tee of Sarasota/Manatee
The First Tee is a golf program that my sister and I got involved with about five years ago. After participating in the program for awhile we learned that The First Tee is more than a golf program for kids. The First Tee teaches us to do everything we do the best that we can do it. We use golf to help us achieve this because there are so many parallels between life and sports and so many lessons that can be learned playing games.
We also do it because working on our short game is more fun than doing our homework. I guess it's true that a bad day on the golf course is better than a good day at work!
The First Tee teaches us what are called life lessons including the Nine Core Values: Honesty, Integrity, Sportsmanship, Respect, Confidence, Responsibility, Perseverance, Courtesy and Judgment.
Golf is the only sport I know where at every level, you are required to call penalties on yourself. How many fouls do you suppose would be called in the NBA if the offending player had to call it on himself? Yet in professional golf, we see this all the time. This teaches us Honesty.
We are all responsible for the honesty of our own game. We learn that cheating hurts us more then our competitors. We learn that ignoring transgressions robs us of our Integrity. Can you put a value on integrity? Professional golfers are paid based on how they score and how they play each week, yet they value their Integrity and the Integrity of the game so highly that they call penalties on themselves even when the cost is in the hundreds of thousands of dollars.
Golf has both rules and etiquette and both are fundamental to the game. We learn not to walk through the line of our opponent's putts or talk during their backswing. Meeting the letter of the law is important, but it's also important to do it the right way. This teaches us Sportsmanship.
I'll bet that you're starting to see how life lessons can be taught through golf.
We learn to Respect our playing partners and the golf course. Fill your divot, knock the sand off your shoes in the trap and shake hands before and after each round.
If you've met any of the kids from our chapter, you've probably noticed that we look you in the eye, speak clearly and shake your hand firmly. That's no accident; we practice the proper way to greet someone. Practicing a golf shot or a handshake gives us the Confidence to execute it when the pressure is on.
In golf, we learn that we are Responsible for our own actions and reactions. I practice hard so that I can hit all my shots well, but we all know that the occasional bad shot will pop up from time to time. Personal responsibility teaches us that because we made the swing; we are responsible. Blaming the course conditions or rude playing partners or the wind or anything else beyond our control may make us feel better, but the truth is that we are still responsible. We're also responsible for our reactions. When we get angry at the result of our mishits, we are only costing ourselves more strokes in the near future. We can only fix the next one, not the last one!
A couple of weeks ago, I was playing at a local course and had about 130 yards to the front edge of the green with the flag only a few paces on. I wanted to land the ball short of the green and bounce it on. I knew my yardage and felt confident as I stepped up to hit the shot. I made great contact, and the ball soared to the heavens. It was coming down on the perfect trajectory -- just as I envisioned it -- when the ball hit a sprinkler head in front of the green and bounced, not onto the green for a tap-in birdie, but into the waiting arms of a water hazard next to the green. Got up and down for bogey and a slice of humble pie.
Ok, I made that last situation up, but it's a great illustration of how the game of golf can teach us life lessons. That personal responsibility thing that I mentioned comes into play as does Perseverance. We're taught that perseverance is keeping our cool and our focus when bad breaks jump up and bite us. I like to think of it as toughing it out. Either way, perseverance will lead to lower scores and more satisfaction in our game and in our lives.
The final two core values are Courtesy and Judgment. I've talked quite a bit about Courtesy, whether it's a proper handshake or following golf etiquette. Judgment on the golf course is all about trading risk for reward. Do I go for the green in two on the par 5? Can I squeeze the ball through the trees? Should I aim a little more to the left and gain a few yards on the fairway with the possibility of coming up short and into the water?
Judgement learned on the course can help with even more important judgments off the course. Homework or video games? Girlfriend or grades? Drugs or scholarship? The way I answer those questions will impact the rest of my life. I hope that the Judgment that I've learned on the golf course and the life lessons that I've learned from First Tee will help me to continue to make the right choices.
The First Tee has helped to shape me into the person that I am... much like the David Leadbetter Golf Academy at IMG Academy has helped in this process. All of our experiences influence who we become, and I've been very fortunate to have had good influences and experiences!