"Mint" Kongkiatkrai takes FCWT by storm
April 09, 2009
by: Dan Tierney
Her goal is simple enough.
"I want to get to the LPGA Tour," says Tanaporn "Mint" Kongkiatkrai.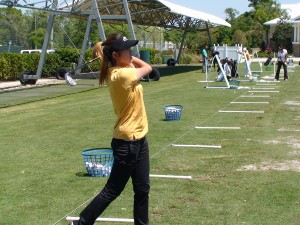 And once she gets there?
"I want to win everything," she says.
At the pace she's set this year, the LPGA, at least, may not be too far away. In her first year as a student at the David Leadbetter Golf Academy at IMG Academy, Mint has won four times on the Future Collegians World Tour (FCWT). Golfweek recently named her one of six junior players to watch in 2009.
Not bad for an athlete who claims to uncharacteristically (at least for golfers) play without a good luck charm. She does, though, possess a solid short game and great touch from inside 100 yards.
"I can stand there with a baseball catcher's mitt at 55 or 60 yards from Mint," said DLGA coach Andrew Oliphant, "and she could hit every ball into my glove."
Mint, who got the nickname as a child from her father while growing up in Thailand, will try to pick up another win at the American Junior Golf Association's Mizuno Junior today through Sunday (April 9-12) at Innisbrook in Palm Harbor, Fla.
Follow her progress this weekend at www.ajga.org.
In the mean time, check out video of Mint working with Oliphant at one of the DLGA driving ranges.