The Callaway fitting system
April 10, 2009
by: The Leadblogger
TheCallawayFitting Systemgives you an unparalleled array of fitting clubs to work with during your fitting session. I-MIX gives you the ultimate in driver flexibility while OptiFit Clubs replicate the look, feel and performance of production clubs.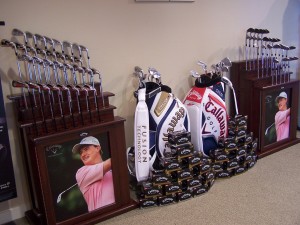 I-MIX interchangeable heads and shafts offer the ability to get fit into your ideal driver from the fitting cart and then purchase the identical club head and shaft combination. I-MIX also lets you reconfigure your driver to meet the challenges and conditions of every round with interchangeable heads and shafts. This state-of-the-art Callaway technology also allows for future growth so your equipment can change as your game does.
The idea behind the OptiFit Fitting System for irons is to make them indistinguishable from the actual iron you will put into play. The swing weight and center of gravity location are virtually an exact match to the finished production club with little difference in terms of playability, feel and performance.
There are now six FT-iQ clubheads and twelve FT-9 clubheads to go along with twelve driver shaft options from the most-respected and most sought-after shaft manufacturers in the marketplace, including Aldila, Fujikura, Grafalloy, UST and Mitsubishi Rayon. That means you have 216 total driver configurations to choose from. Each shaft can be interchanged with any clubhead so you will have no uncertainty as to how a particular shaft and head will perform for your unique swing.
In addition, there are 12 irons heads and 20 shafts for a total of 240 unique iron configurations. Choose from stock and custom shafts available in varying lengths and flexes, as well as iron heads in a variety of lie angles.
Our clubfitter, Brett Meyer, will be using the Trackman system during the fitting sessions.
Sign up today in the pro shop to try out the Callaway clubs that are right for you!
Pro shop hours are 8:30-10:00 and 2:00-3:30 Monday-Friday.