DLGA students make the AJGA Mizuno interesting!
April 11, 2009
by: The Leadblogger
Twenty-nine DLGA students traveled an hour-and-a-half north this weekend to compete in the AJGA Mizuno Jr. at Innisbrook. The 54-hole event started on Friday and will conclude Easter Sunday.
The boys' event is being played on the world famous Copperhead course. The PGA TOUR professionals consider Copperhead to be one of the "Top Five" courses they play all year. Tree-lined fairways and rolling terrain define Innisbrook's most famed course - a lengthy challenge for even the longest hitters. Striking in beauty and challenge, Copperhead is characteristic of a Carolina layout, with dramatic elevation changes and tall pines.
The boys' division is well represented with academy golfers. Seventeen DLGA boys started the event and after two days, nine of them made the 36-hole cut. Rick Lamb is currently in 5th place with rounds of 74-72 and Ben Palanski is going into the final round in 9th place with rounds of 74-75.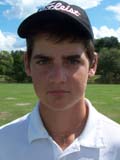 Blake Soni, Michael Chen, Sean Kelly, Micky Chan, Sam Fu, Eduardo Chavez and Michael Yang all made the 36-hole cut and will play their final round on Sunday.
The girls are competing on the Osprey North course which is similar in terrain to the Copperhead Course. This course is known for its tough par 3's, tight fairways, an abundance of trees and well-bunkered greens, placing a premium on accuracy from tee to green. Eleven holes have water hazards so accurate shot-making is a must.

After two rounds four DLGA girls are in the first four spots on the leader board. Sally Watson is leading with rounds of 69-72, followed by Doris Chen at 142, Victoria Tanco at 143 and Mia Piccio at 144. These girls will no doubt make the final round an interesting one. Also rounding out the top 10 in the girls division is Ginger Howard, with a two-day total of 148.
The final round tee times run between 8:00 and 9:45 on both the Copperhead and Osprey North courses.
For complete results check out www.ajga.org.