Meet our new clubfitter.....Brett Meyer
April 13, 2009
by: The Leadblogger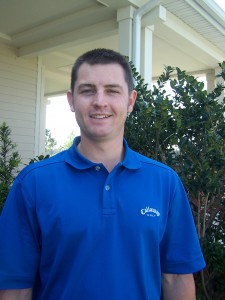 With the opening of the pro shop at the David Leadbetter Golf Academy comes clubfitter Brett Meyer. Here's some background on Brett...
Brett Meyer, from Mendota, IL,attended Central College in Pella, Iowa and graduated in 2007 with a degree in Marketing and Spanish. Brett competed on the men's golf team (Division III) and was a four-year varsity letterman and also served as Team Captain in 2006 and 2007.
He was selected as an All-Iowa Conference Team member, played in two NCAA tournaments, was the 2007 Team MVP and was selected to the PING Coaches All-Central Region Team.
Brett comes to DLGA previously employed as a Tech Rep for Callaway Golf Company overseeing the Gulf Coast Region. While serving as a Tech Rep for Callaway, he worked closely with regional sales representatives, presented Callaway Golf Demo Days, did custom equipment fittings and worked with the Callaway Tour Fit Van.
"I am excited about the new opportunity, the staff I will be working with, and the large amount of support and representation that Callaway Golf will bring to DLGA at IMG Academy," Brett said.
"I will bring knowledge and experience to the DLGA from a variety of areas whether it be sales, equipment, fittings, golf etiquette and beyond".
Stop in the pro shop to meet Brett and set up a time to arrange a club fitting. As mentioned in a previous blog, club fittings are free to the full-timers. During pro shop hours (8:30-10:00 and 2:00-3:30), you can schedule fittings with Brett. Fitting hours wil be from 10:00-12:00 and 3:30-5:00 Monday- Friday and Saturdays by appointment.