Victoria Tanco wins her third AJGA title!
April 13, 2009
by: The Leadblogger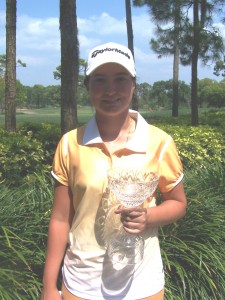 David Leadbetter Golf Academy student, Victoria Tanco, from Argentina, won the girls' division of the American Junior Golf Association's 16th annual Mizuno Junior at Innisbrook held this past weekend.
Victoria won the prestigious 54-hole tournament with an even-par 210, shooting rounds of 75-68-67.
The tournament field consisted of 138 boys and 77 girls, ages 12-18, from 27 states and seven foreign countries. The boys' division, which was cut to the low 60 players and ties after Saturday's second round, played the par-71 Copperhead Course at 7,305 yards, while the girls' division competed on the par-70 Osprey North Course, which was played at 5,911 yards.
Known for its tough par 3s, Osprey North features narrow fairways, an abundance of trees and well-bunkered small greens, which places a premium on accuracy from tee to green. Victoria was deadly accurate the last two days of the tournament, only missing two greens in regulation over 36 holes of golf.
"I didn't putt like I wanted to early in the week, but it all came together today," said Victoria. "The course is not very easy, so I knew I would just have to wait for birdies."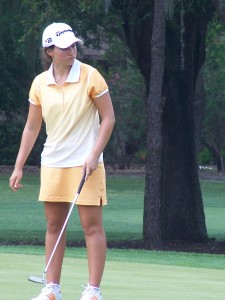 DLGA students Doris Chen and first-round leader Sally Watson struggled the final day, but still finished an impressive 4th and 8th respectively.
Mia Piccio had a nice tournament with a tie for 4th with rounds of 70-74-72 for a 216 total. Ninth-grader and fellow DLGA student, Ginger Howard, had an excellent event finishing in 6th place with rounds of 74-74-69.
In the boys' division, Blake Soni, finished in 8th place, which was the lowest DLGA finish. Blake shot rounds of 78-72-72 for a 222 finish and seven shots off the winning score. Zhong Yang "Sam" Fu finished in 10th place firing rounds of 76-77-70.