Tennis coach experiences Performance Institute's training program
April 15, 2009
by: Dan Tierney
Mike Stamps recently went through the Athletic & Personal Development program's coaching development program. Here's his testimonial on what he experienced:
I recently attended the "Coach Development Program" at IMGA. The facts are that it takes many components to stay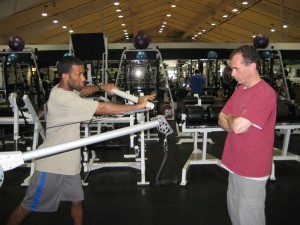 consistent and balanced in the game of life or sport. The IMGA seven-discipline model is a winner. The IMGA staff is not only highly skilled, but they strive to improve the goals of regular people, as well as professional athletes, to take them to the next level.
The IMGA programs of Mental Conditioning, Life Skills, and Communication with game on are not emphasized enough for the game of life, in the workplace, wellness programs and even in most sport programs. I also believe Mental Conditioning, Life Skills and Communication with game on help with human behavior patterns. For example, it can help with personal relationships, employer-to-employee relationships, coach-to-athlete relationships, and parent-to-child relationships.
Bottom-line: No matter whom you are or what level you are at in life, take time out of your current scenario to experience the entire IMGA program.
Thanks for an invaluable opportunity.
Sincerely,
Michael Stamps
NSCA-CPT, ISSA-CFT, Functional Movement Screen, USPTA, PTR, Etcheberry
Find out more on registering here.