A coaches perspective from an LPGA major...by Scott Bettger
April 16, 2009
by: The Leadblogger
David Leadbetter Golf Academy instructor Scott Bettger coached LPGA player Julieta Granada during the LPGA Kraft Nabisco -- one of the LPGA's four majors. Here he writes about his experience:
The overall experience that I had at the LPGA Kraft Nabisco was second-to-none compared to anything that I have experienced in the last 10 years.
Just the thrill of being at a major championship venue with breathtaking views, fabulous buffets and the excitement of spending time with the world's best at what they do was exciting, but it was being with Julieta that made it a lasting memory.
Julieta has had some disappointments over the last two years and hadn't started off well in 2009, however, you would never know it. Her fun-loving attitude, perseverance and desire to work hard was exhilarating. Julieta's catch phrases for the week were, "We are going to kiss the pig" (work on the one thing that you most dislike) and "Go the extra mile because there is no traffic on the extra mile."
On Wednesday (after three 12-hour days, including a pro-am, vigorous sessions on the range and three practice rounds), Julieta found time at 5 p.m. to sign autographs and do a junior clinic for about 100 kids from the First Tee program. She spoke to the kids with passion and energy, which I found extraordinary coming from a 22 year old. It was as if she was preparing for that moment all week. Julieta's impact on the kids and her pro-am partners was so powerful that they all became instant fans and joined her gallery for the week. In fact, one of her pro-am partners told us that he was flying out on Thursday morning because of work commitments. He ended up staying at the tournament to support Julieta and watch her finish her round.
Julieta did not achieve the results that she had prepared for, however, it was quite impressive that an athlete can fall short of her goal, yet can still persevere with such an undeniably winning attitude.
After being a coach at the junior golf level for ten years and spending one week on the LPGA Tour with Julieta, I would report that the greatest difference between the two is the junior golfer has more difficulty separating what is important at that present moment and will spend more time dwelling on what they didn't do in the past rather than what they need to do presently.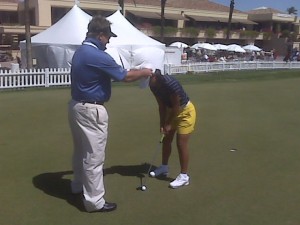 Julieta is 100-percent committed to the blueprint established by her team. As a team, we have set goals for her long-term success as an LPGA touring professional. The commitment to her game was obvious, as it included balanced and consistent practice sessions. On the range, she hit hours worth of balls focusing on the fundamentals necessary to improve her ball flight and strike. Putting and chipping were timed exercises that were meticulous in purpose and exuded confidence. Short game is her strength and needs to be practiced, but only polished up, therefore, demanding less time. On course practice rounds were spent planning and mapping out shaded areas, club selections on par threes and off tee boxes and putting and chipping to four different hole locations; as well as constant reminders of her blue print fundamentals. Warm up sessions before tournament rounds were timed and exactly the same for both rounds including range, chipping and finishing on the putting green. Her nutrition and diet were impeccable for the week.... mainly trying to stay hydrated and constantly fueled with timed healthy snacks. Her mornings started with 6:00 am two-mile runs, medicine ball workouts and ended with a scheduled bed time for sufficient rest. Julieta's mom was there to constantly support, encourage and remind her of positive mental keys. This holistic approach to training is what each junior at our academy has an opportunity to receive. The coaches educate each junior athlete about this training philosophy; however, the junior's success will greatly be determined by their own commitment level. Working with Julieta was so enjoyable for me because our time spent together was 100% committed to the process, was efficient and always had a purpose. This 100% commitment level did bring short term results as we were able to chart and measure her progress from the first day until the last day I left.
The LPGA tour was an eye opening experience for me. Two things really stuck out to me on the tour. The first, is how hard each one of these women athletes work and how disciplined they must be to not burn out. The weeks are very similar and must almost seem redundant, regarding the travel, practice sessions, practice rounds, pro-ams, fans and media. There is very little personal time for the average LPGA tour player seeming to leave no time to balanceone's life with other hobbies. Therefore, I would strongly recommend that anyone considering this profession must have a burning desire and passion to play golf that supersedes any other priority in ones life. That being said, the second thing that stood out to me was the lack of camaraderie between the ladies on tour. I recognize that golf is an individual, competitive game, however, I believe, there must be a balance between professional success and representing yourself with class and dignity with the people you spend most of your life with. So with that in mind, I believe we must continue to educate the junior's that competing at the game of golf, while practicing the proper etiquette, will change the culture for a better future LPGA tour.
Thanks Julieta for your hard work lots of laughs and a most memorable experience. The tour needs many more just like you!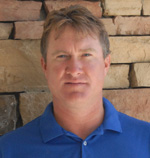 Scott Bettger has been at the David Leadbetter Golf Academy in Bradenton, FL since 1999. Scott is a Senior Instructor at the academy and over the years has worked with numerous highly ranked and talented juniorgolfers. Scott is part of a talented teamat IMG Academy who are allworking with and helping Julieta reach her goals for the 2009 season and beyond.