Cheng-Tsung Pan finishes 3rd at the Terra Cotta Invitational!
April 20, 2009
by: The Leadblogger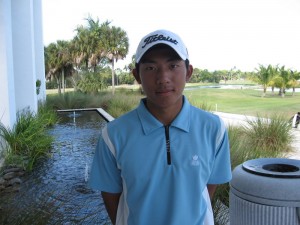 The 2009 Terra Cotta Invitational was held this past weekend in Naples, FL. The 14th annual, 54-hole stroke play tournament is an invitational played at the prestigious Naples National Golf Club. This amateur event fields some of the best amateur, collegiate and junior players in the country. The difficult and challenging par 72, 7,000 yard layout, winds through cypress, pines and marshland and rugged sand scrub waste areas border the beautifully manicured fairways. The golf course proves to be a challenge for the top amateurs in this event each year.
This year's event was won by 16-year-old, Matt Cerovalo with a 4-under par, three-day total of 212. DLGA's Cheng -Tsung Pan, also 16 years old from Taipei, finished the amateur event in 3rd place with rounds of 77-66-72 for a 1-under total. Cheng-Tsung, known as as JP or Junior Pan here at DLGA, has placed in the top 5 in each ofhis last 7 events.
Four other DLGA students competed in the event: Jerry He, Rick Lamb, Eduardo Chavez and Tommy Mou. For theirresults and complete tournament coverage click here.