Tommy Mou: A DLGA veteran...a 2009 graduate...and a soon-to-be Florida Gator!
April 23, 2009
by: The Leadblogger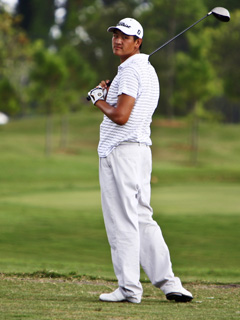 Chung-Hao "Tommy" Mou has been a full-timer at DLGA since he was 11 years old. He has been a dedicated student-athlete, never wavering from his goals and dreams. He is currently ranked in the Top 40 of the Golfweek rankings and will be heading to the University of Florida this fall.
To be the best I can be I need... to keep working on my weaknesses of my game. Two of the most important parts of the game for me are short game and course management. If I can make them my strong point, I know that I will be where I want to be in the future.
In the future... I see myself on the PGA Tour, playing in great tournaments against the best in the world. It has always been a dream of mine to be on the Tour.
Golf has given me... the chance to meet a lot of new friends and people. Over the years, my friends from DLGA have helped me when I am down, have taught me how to have fun, and they have helped me become a better person. Golf has also taught me how to set goals in my life. I wake up every morning and know exactly what I want to do.
My strengths as a person and as a golfer are... I am able to enjoy everything I do. I enjoy being out there playing and competing with my friends and meeting new people. I like to be with my friends; I enjoy their company.
My best golf memory is... The summer of 2006. I played great that year, with several Top-10 finishes and a few Top-5 finishes as well. I got to play in every tournament that I wanted to play.
Over the last few years, my game... Has been "okay." I am now able to hit many more shots and my technique has improved. However, I am struggling with scoring.
Training at DLGA/IMG has been... A thrill. I get to work out every morning, head to school and play golf every afternoon and do all of those things with great balance in my life. It is truly a great facility to improve in every aspect of golf and in life. It is a facility that is not just great for golf, but for a complete life experience. You learn to be responsible, to be on time and many life lessons. At the same time, you have great coaches at DLGA to help you in the golf game.
I am most proud of... My parents, my coach and the people that have helped me with my game. It was hard for my mom to come here and to leave my dad behind. I am proud of my dad, helping me as much as he has. I am proud of my coaches David (Whelan) and Top (Puntawong). So many people have helped me at IMG.
Graduating and heading off to University of Florida is... Very exciting to me. It shows me that my hard work has paid off. I am getting to be part of a great golf team. I am thankful to everyone that helped me get there!