Getting to know... UCLA's Jrue Holiday
April 24, 2009
by: Dan Tierney
Every spring, basketball players from the U.S. and abroad come to the IMG Academy basketball program with hopes of a future in professional basketball. From sure-fire NBA lottery picks to players simply preparing for a tryout with a lower-level pro club, each player in the Academy's pre-draft program has a different story and background. They share one thing in common - the desire to improve their game at the IMG Academy basketball program. See below for some background on one of our recent players.
Jrue Holiday, a freshman from UCLA, won the Gatorade National Player of the Year as a high school senior. Holiday played in all 35 games in helping UCLA finish with a record of 26-9. He's declared for the NBA draft, but hasn't yet hired an agent.
Jrue on how many people mispronounced his name before it was nationally known... People did it constantly. They'd call me Jeru (JAY-ru). About a million people have made the (hip-hop artist) 'Jeru the Damaja' joke. But it's pronounced just like the normal spelling of Drew. No hyphens. No apostrophes. My parents were going to give all of us names starting with "J" and my aunt suggested Jrue. I don't know what happened to my younger brother (Aaron) and sister (Lauren), though.
On his shoe collection... Man, I don't even know how many I have. More than 50 pairs, I guess. I don't have one that I like most. I have some of everything - Jordans, (Air) Forces, Shelltoes, Sambas. Everything.
On the last time he played older brother, Justin, a sophomore at U of Washington, 1-on-1... Like real 1-on-1? A long time ago. Probably before high school. We'd fight too much. We started playing 2-on-2 with our little brother and sister.
On UCLA practices... Going against (senior) Darren (Collison) was great for my game. It was going against an NBA point guard in every practice. (Josh) Shipp would talk a lot... call me short because he's got a little height on me.
On his preseason prediction in Dime Magazine that UCLA would win the national championship... I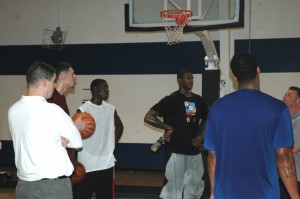 wouldn't take it back. I really believed that we had what it took to win. We had seniors in Shipp, Darren and (Alfred) Aboya. I guess we just didn't play together.
On the renowned summer games on the UCLA campus... Almost everybody comes to play. Paul Pierce. Baron Davis. LeBron came once. LeBron's huge, but he doesn't compare to Dwight Howard. He's a house. Last summer, it was Shipp and Jordan (Farmar) really playing. They were going hard at everyone in the gym.
On four other players in history he'd choose in a game with $10 million on the line... Dominique Wilkins. MJ. I'm playing, too, right? LeBron. Shaq. I'll go with Pat Riley to coach. Who's getting the last-second shot? Probably Shaq, because he was unstoppable in his prime. Maybe me? I've hit some buzzer-beaters. People just don't know about me yet.
On Los Angeles celebrities... I don't really get star-struck much. The only people who I was nervous about meeting were Candace Parker and Michael Jordan. I was at LAX when Jessica Alba was there. She was dressed down and wearing sunglasses. People were all snapping pictures. I didn't take any, because I didn't want to look desperate.
On the Wizard of Westwood watching one of his high school games... I didn't notice at first because I was playing. But I went to the bench - we were killing them - and I saw John Wooden. I looked up and was like, "Wow, that's pretty cool."
Word association
John Wooden... Greatness.
Ben Howland... Defense.
Pauley Pavilion... Legendary.
USC... Haters.
Magic Johnson... Greatest point guard ever.