Come out and meet Brad Gilbert!
April 27, 2009
by: Dan Tierney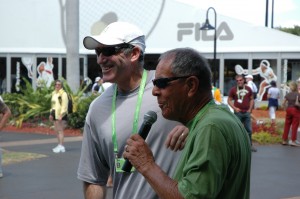 On April 29, Brad Gilbert's tennis career will come full circle.
A Nick Bollettieri Tennis Academy alum and eventual professional player and world-class coach, Gilbert will be the guest of honor at IMG Academy second Meet the Champion night on April 29 at 9 p.m. in the Sports Performance Center. All IMGA students and employees are invited. See video of the first Meet the Champion night with Max Mirnyi here.
In March, Gilbert and IMGA reached an agreement in March for Gilbert to join the esteemed Nick Bollettieri Tennis Academy staff as a guest coach.
"Brad's ability to coach is second-to-none," Bollettieri said of his former student. "When you combine that with his incredible energy, you have the complete package. He brings a lifetime of tennis knowledge to the Academy and will make an incredible impact on all of our students."
The Meet the Champion program will consist of a few words from Gilbert and a question-and-answer session. It follows the popular Meet the Champion night from earlier this year with Mirnyi, also an NBTA alum.
In his coaching career, Gilbert has worked with players like Andre Agassi, Andy Murray and Andy Roddick. Gilbert helped Agassi for six years, during which time Agassi won six Grand Slam titles, 29 tournament titles and an Olympic gold medal. During his playing career that spanned more than 13 years, Gilbert won 20 tournament titles, won 519 total matches during his career and reached a high-ranking of No. 4 worldwide in 1990.
Gilbert's best-selling book "Winning Ugly: Mental Warfare in Tennis" co-authored with Steve Jamison is available in several countries and represents one of the best-selling tennis books in history.
"Brad has always been a favorite of mine because of how he knew how to fight and win," Bollettieri said. "What he brings is a formula on how to fight, how to dig in and how to get the maximum out of what you've got."