Getting to know... Tony Gaffney of UMass
April 29, 2009
by: Dan Tierney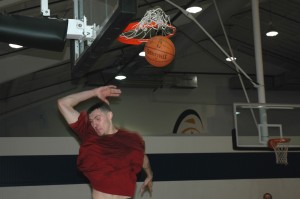 Every spring, basketball players from the U.S. and abroad come to the IMG Academy basketball program with hopes of a future in professional basketball. From sure-fire NBA lottery picks to players simply preparing for a tryout with a lower-level pro club, each player in the Academy's pre-draft program has a different story and background. They share one thing in common - the desire to improve their game at the IMG Academy basketball program. See below for some background on one of our recent players.
Check out the list of the top NCAA shot-blockers in 2009 and the first two names - Jarvis Varnado of Mississippi State and Hasheem Thabeet of UConn - sound familiar to most basketball fans. The next person on the list, though, is Tony Gaffney of UMass. Voted MVP of his team this year, Gaffney was also named to the CollegeInsider.com Defensive All-American team after averaging 3.8 blocks per game and 10.2 rebounds per game (17th nationally).
On his basketball-playing family... My younger brother's my best friend, and we had some battles back in the day. Most of the time, the whole family plays - I also have three sisters. Even my mom loves it, even though she was more of a volleyball player. My whole family's between 5-foot-8 and like 6-1. I don't know what happened to me. I must have an uncle or someone somewhere who's like 6-6. I just got lucky, I guess. The last time my dad played me was when I was in 5th grade or something. He beat me and won't ever play me again. Ever. His claim to fame is that the last time we played, he beat me.
On playing at the Portsmouth Invitational Tournament... It's tough because showcases like that are built for guards. Before I went, I talked to (former UMass and current Miami Heat player) Stephane Lasme, and he said, "Don't get away from what got you there in the first place." I tried to do that and apparently I opened a few eyes. I didn't try to shoot 25-footers or anything. It was a really good experience playing in the kind of environment. People were really playing for their lives, and I guess that's because most of us were.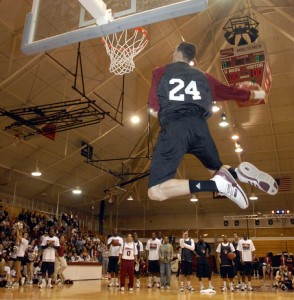 On why an NBA GM should draft him... I treat every time between the lines like it's the last time I'm playing. I was just born with that mentality. I've had a few coaches make comments about my hustle, like coach (John) Calipari and coach (Brian) Gregory of Dayton. It's great to hear, but it's not something I can control. You won't have a player work harder than me. I don't care if it's a 10-year vet or another rookie fighting for a spot. I bring all the little things, and I've got some talent, too.
On the art of blocking shots... I saw Dwyane Wade on ESPN talking about he'll go up for shots that he didn't think he could get and still block them. I feel the same way sometimes. If that means getting dunked on a couple times, so be it. Saving a possession to me means more than getting dunked on. And I'd absolutely rather block a shot than dunk on someone. That person knows you're there for the rest of the game. Something about me just appreciates a good blocked shot.
On his other favorite sport... I miss playing baseball. I played for 15 years. I pitched, but until I grew, I played short stop. When I was a freshman in high school, I was 5-9. By the time I was a senior, I was 6-9, so I kind of grew out of the position and shifted to basketball.
On his all-time favorite Boston athletes... Larry Bird, Ted Williams, Paul Pierce, Troy Brown. I love him. He's a workhorse. He's tiny and doesn't belong on the field, but he always comes through. I'll say Bobby Orr. A little bit of every sport.
On working with IMG's David Thorpe and Mike Moreau... It's more than coaching - it's instructive. They want to see you get better. They get enthused when they see you make shots. That makes it easy to work hard. Some of the guys who were here before told me that the training's no joke. It's a good thing, though, because I'm always trying to get better.