Guard fulfills dream at IMG Academy basketball program
April 29, 2009
by: Dan Tierney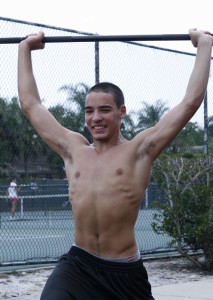 The desire to play college basketball never left Jesse Edwards.
Not after his high school team struggled mightily. Not after recruiters failed to make the trip to his small Cape Cod town.
"What scout's going to drive out to Cape Cod for a 2-18 team," Edwards said. "I knew I wasn't getting any exposure."
Now, Edwards, a 5-foot-8 guard, will represent one of the latest in a long line of successful IMG Academy students by taking his game to Drew University in New Jersey next year.
Edwards and his family first talked about IMGA a couple years ago when a family friend talked about it the Academy. A visit last summer sealed the deal for him.
"It just blew me away," he said. "The campus. The facilities. Everything."
So, Edwards left his family, friends and girlfriend in Cotuit, Mass., to make an investment for his future. He had never lived away from his parents. He had never previously even lifted weights. At IMGA, it didn't long for him to mature physically and mentally.
"I grew up by 100 percent," he said. "I gained 15 pounds -- good pounds -- as soon as I started training. I used to rely on my family for everything. Here, I saw everyone else being able to survive, and they were handling it fine."
In his living area, he met other athletes from Nigeria, Norway, Mexico and Miami.
"I had never been to any of those places, but I formed a bond with all of them," he said.
Through hard work and discipline, Edwards improved his game and caught scouts' attention. He had a few offers, but decided on D-III Drew, and he couldn't be happier.
"Coming to IMG was without a doubt the best decision I've ever made," he said.