Getting to know... Louisville's Earl Clark
April 30, 2009
by: Dan Tierney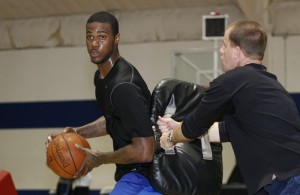 Every spring, basketball players from the U.S. and abroad come to the IMG Academy basketball program with hopes of a future in professional basketball. From sure-fire NBA lottery picks to players simply preparing for a tryout with a lower-level pro club, each player in the Academy's pre-draft program/Pro Training Center has a different story and background. They share one thing in common - the desire to improve their game at the IMG Academy basketball program. See below for some background on one of our recent players.
Earl Clark represents the epitome of all-around basketball player. At 6-foot-9, the Louisville junior from Plainfield, NJ, can play on the wing or on the block as his stats (the team's leading scorer and rebounder and second-leading in blocks and assists) show. Most mock drafts have him going in the top 10.
On developing a shooting stroke as a big man... I wasn't always tall. In eighth grade, I was about 5-10, and then I hit a crazy growth spurt. I could barely play because I had growing pains so bad. In my freshman year, I was 6-6. None of my skills left, I just got taller. I just spent all of my time in the gym shooting. I came back around my neighborhood, and everyone's like, "What happened?" I just sprouted out of nowhere. I wasn't hanging out like I used to do. I was working hard.
On Rick Pitino's infamous white suit... Coach P... he's a guy with style. He got some swag being from New York. All of us from up top -- from the north -- we like to dress. The sweating through the suit (last year against Georgetown)? That was embarrassing. I didn't see it, but people were telling me. He's intense. He screams at the top of his lungs, so I know it got hot in that suit.
On the tattoo-heavy Louisville team... Terrence Williams has the most. He loves tats. We all do, but he turns it up a notch. He's sleeved up. Me and my best friend from Jersey came up with BFAM (point to a tattoo on his hand). It means Brother From Another Mother. I heard about some NBA players with BFAM, and I've seen some people with it on their hat, but we were talking about this since we were young. All of my friends from the neighborhood who grew up together, we've all got the tattoo. We're like brothers, and it's just a sign of loyalty.
On training at IMGA... The environment just makes you want to be great. Seeing the little kids putting in as much work as they do, it's like a college. It takes so much dedication. For me, it's good because the coaches (David Thorpe and Mike Moreau) really want to make you better and help you get better. The trainers help you get stronger. The third day here was the worst. I woke up and couldn't move. I had to do the bike for a while before I even got on the court. I'm used to it, though. The way we played at Louisville, coming out of the summer you knew Coach P was going to work you.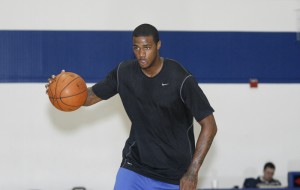 On the biggest trash-talkers in college... Eric Devendorf of Syracuse. He has a filthy, filthy mouth. Edgar Sosa (for Louisville)... he'll talk a lot, too. Those two will get into it for an entire half.
On Louisville's fans... The greatest fans in America. And the craziest. They'll walk up to you in the bathroom -- no matter what you're doing -- and talk about the next game coming up. They don't care if you're sitting at a table with the president, they want to talk about Louisville basketball.