Best of the best... with the Soccer Academy's Keoni Filipe
May 01, 2009
by: Dan Tierney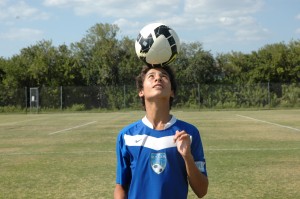 Hailing from nearby Punta Gorda, Fla., Keoni Felipe -- the Utility Man -- fills in wherever he has to on the U-15 IMG Academy soccer program squad. "When he plays defense, he uses his intelligence to anticipate the game and win the ball from attackers," said coach Jared Vock. "When he plays midfield, he has the ability to create chances for other players, and he has the ability to score when used a forward."
See below for Keoni's best of the best:
Best piece of advice: Always try your hardest even if things aren't necessarily going your way.
Best on-field memory: It was in the semifinals of the Region C Cup. My team was up 2-0, and I was playing left back. I ran down the wing, split two defenders and finished in the lower-left corner.
Best current player in the world: Lionel Messi.
Best game ever watched: When Messi scored a hat trick against Real Madrid in El Clasico a couple years ago, and the game ended 3-3.
Best team in the world: Barcelona. I can't wait for the second leg of the Champions League matchup against Chelsea.
Best athlete you've seen on IMGA campus: Brian McBride.
Best thing about IMGA: There are just so many different cultures that it makes a really cool environment.
Best song: "Don't Worry, Be Happy," by Bobby McFerrin. I don't know why... I just like it.
Best movie: Never Back Down.