Osama Khan wins for the 6th time!!!
May 04, 2009
by: The Leadblogger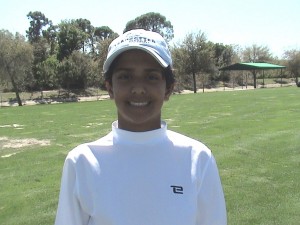 Thirteen-year-old David Leadbetter Golf Academy student, Osama Khan, of Barbados(2014)earned his 6th FCWT win of the season and his first in the 13-15 division! Osama, who turned 13 in March, won 5 times in the 11-12 division this season, and then in his second event in the 13-15 age group, he put himself in contention on the final day to add another title to his resume.
On Sunday, Osama and fellow DLGA student,Daniel Jaramillo of Colombia (2014), who is still 12, finished 36 holes tied for the lead. Daniel started in 4th place on Sunday, and posted a 78 on Sunday to move up the leaderboard. Osama shot rounds of 77-80 and the two boys ended the 36-hole event in a tie. So they returned to hole #1 for a sudden death playoff where Osama made birdie to seal the win. Daniel's second place finished matched his best of the season while playing in the older division.Daniel also posted the only eagle in the 13-15 division this weekend on the par 4, 10th hole on Sunday.
Benjamin Davis (2012), also a Leadbetter golfer, and from the Bahamas started in 5th place going into the final round and shot 78 on Sunday to finish in 3rd place and just 3 strokes back of the lead.
In the Boys 10-11 year old division, DLGA student, David Gao of New Jersey (2017)won his first FCWT event. Davidshot rounds of 83-83 and finished one stroke ahead offellow Leadbetter golfer, Tian Yi "Jack" Cen of CHINA (2014)for the win.

In the Girls division DLGA student, Laetitia Beck of Israel (2010) earned her first win of the season. Laetitia is considered one of the most consistent players at the Leadbetter Academy as well as on the FCWT.She is in her 3rd season on the FCWT, and has played in 20 events. Laetitia has only finished out of the Top 5 (a T7 at the Leadbetter in January 2008) one time! Laetitia has three career FCWT wins, 13 Top 3 finishes and 19 Top 5 finishes. This season she finished runner-up in all three of her previous events.
On Sunday, she posted a solid round of even par 72 to earn a win over DLGA studentSusana Benavides of BOLIVIA (2009) who was the first round leader. Susana has been playing great golf, just finishing as the runner-up in the South American Team Championships in Argentina. Susana opened on Satruday with a round of 2 -under par on to take the first round lead and followed it up with a 75 onSunday.Laetitia and Susana tied for the most birdies in the girls division with 5 each.
In the older boys division on Sunday, three DLGA students put their selves into contention with fine play in the final round. Peter Ganser of GERMANY (2010) and Shang "Ken" Zhi of China(2009) both fired sub-par rounds of 71. Grzegorz shot a one over par 73 and all three DLGA players finish tied with Brant DeLongy - resulting in a four-way playoff. The players headed to # 17 and Grzegorz was eliminated on the first playoff hole. The other 3 players continued on to # 18 whereDeLongy just missed a birdie putt, while the other two made 8-12 foot putts for par. On the third playoff hole, DeLongy made his birdie and earned his second FCWT title in a month.
DLGA student Michael Chen of TAIWAN (2011) finished in 5th place just one stroke back of the playoff participants. Four other golfers from the Leadbetter Academy also posted top 10 finishes: Benjamin Murray of Toronto, CANADA (2009),who won the Mystic Dunes Challenge earlier this season finished 6th, Blake Soni of Lakewood Ranch, FL (2010)finished tied for 8th at 152, 4 strokes off the pace and Ben Palanski and Alex Osborne finished in a tie for 10th.
Congrats to all of you for your fine play over the weekend!