Time to crown a Golf Academy champion
May 06, 2009
by: Dan Tierney
On Friday, May 8th, the IMG Academy Country Club will host the first David Leadbetter Golf Academy Match Play Tournament. The tournament field will consist of 64 DLGA students.
The players (both boys and girls) have qualified for this event through a year-long tournament series consisting of 22 events. Each event is held on Saturday, and the field consists of 40 players. Players earn "prize money" each week, and the top 64 on the "money list" qualify for the Match Play Tournament.
The Match Play Tournament will be a true test of a players' mental and physical skills. Each match will be 18 holes, and it's single elimination. The second and third rounds are scheduled for Saturday morning, the fourth and fifth rounds for Sunday, and the final match for Monday. The final two players will play 108 holes in four days! Check back for daily updates after the tournament starts.
Senior DLGA student Ben Murray isn't waiting for the first tee shot of the Match Play Tournament to get the gamesmanship started.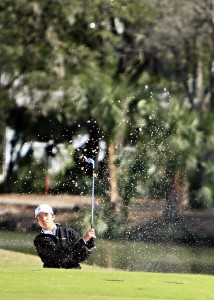 "I've already wrote some smack on my first-round opponent's Facebook wall," said Murray, a No. 4 seed. "I don't even remember what I wrote, but it was something about them getting eliminated early."
And Murray's far from the only golfer to start the head games early. The driving ranges and practice greens have been Ground Zero for good-natured trash talk since the 64-person bracket was released. One golfer who hasn't participated in the talking is Marcel Puyat, a sophomore in his second year at DLGA, who is one of the four No. 1 seeds.
"I try to stay away from that," he said. "A lot of people are talking junk, but I've stayed quiet. I'll let my game talk on the course."
Puyat is still mapping his strategy for the event, as match play calls for a different style than stroke play.
"I think maybe I'll just try to keep the ball in play and wait for my opponent to make mistakes," he said. "El Con really fits my game, too. I've always played well there."
Both Puyat and Murray have played in several tournaments over the last couple months, including some tournaments with 36-hole first days, but they aren't worried about burnout.
"I think it gives us an advantage," Murray said. "I think a lot of the golfers aren't used to playing a lot of holes, but rather practicing on the range a lot."