Victoria Tanco set to play at the Michelob Ultra Open!
May 06, 2009
by: The Leadblogger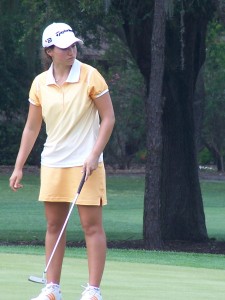 The LPGA Tour is in Williamsburg, VA his week for the seventh staging of the Michelob Ultra Open, hosted at the Kingsmill Resort & Spa. This event features 144 of the best women professional golfers in the world and they are set to compete for a share of the $2.2 million purse, the largest of the 2009 season so far.
Victoria Tanco, a DLGA student, is set to tee off tomorrow as one of two amateurs in the event. She will be teeing off on the first tee at 2:11 pm EST on Thursday and will play at 8:21 AM on Friday. Check out the article on Victoria featured in the Daily Press, written by David Teel here.
Eight DLGA alumni are also set to play: Taylor Leon, Julieta Granada, Aree Song, Ji Young Oh, Yani Tseng, Mika Miyazato, Carolina Llano and Jeanne Cho-Hunicke. Follow the tournament for live coverage on ESPN2 or check out the LPGA website at www.lpga.com