Bayshore High/Baltimore Ravens' Fabian Washington rehabs at IPI
May 12, 2009
by: Dan Tierney
As a three-sport star and top football recruit, Fabian Washington left local Bayshore High for the University of Nebraska with much fanfare as a defensive back. But it was one 40-yard dash at the NFL Combine that put him squarely on the football map after a standout college career. Now going into his fifth year in the NFL, Washington is rehabbing from offseason surgery at the Athletic & Personal Development program before rejoining the Baltimore Ravens this summer.
Fabian Washington on...
His infamous 40-yard dash in 2005... At the combine, I was told it was 4.27. I went on a visit after the combine to New England, and they told me they had me at 4.19. I know I'm fast, but not 4.1 fast. It changed my life. Before the draft, people were saying that I'd go in the 3rd round and mid-2nd at the best. Right after I ran that 40, someone on the NFL Network said, "Fabian Washington just moved himself into the late 1st round." I'm like, "I can deal with the late 1st round."
When he knew he'd be in the NFL... I had wanted it since I was nine years old. But when I was a freshman in college, I knew I could do it. There were guys I guarded who were projected to go to the NFL, and I was guarding them. I wasn't always successful covering them, but I was most of the time.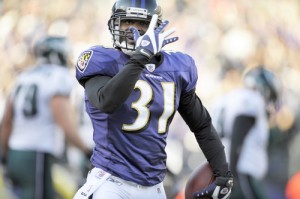 Giving back to kids in Bradenton... I've talked at schools and held a charity basketball game, but the next school year is going to be big. We're going to give out two scholarships to minority kids - one girl and one boy. We're going to have a turkey drive. We're setting up a "shop-with-a-jock" type of thing around Christmas.
Leadership on the Baltimore Ravens... We've got some leaders who aren't going to put up with anything less than the best that you've got. Ray Lewis, Ed Reed, Samari Rolle - if you see their work ethic, you can't help but go out there and fly around. And we love to practice. We fly around like we're in game mode.
Lewis and Reed... Ray Lewis can motivate you to lift a car. He's so passionate about football that it makes you be even more passionate. Ed's quiet, but he'll clown around with us sometimes. He just makes my job so much easier. There were times when Samari and I knew teams wouldn't throw a certain route because of Ed. He can literally play from sideline to sideline.
The fastest, strongest and toughest cover... I'd still say Chad Johnson is the toughest to cover. He struggled last year, I think, more because of the quarterback situation. Everyone says he talks a lot on the field, but he has never talked at me. The fastest players are two Chris Johnsons - the one in Tennessee and one in Oakland. Both of them can flat-out fly. A guy I wouldn't want to see break through to the secondary is Adrian Peterson. The combination of speed and power is ridiculous. He's running through linebackers. But if you've gotta tackle him, you gotta do it.
Predictions for 2009-2010... The Ravens are going to put a great brand of football on the field. With that, I think there will be a lot of wins. I don't know how many, but I'm thinking a lot. We should be at least as successful as last year. As for the Steelers, I've never in my life lost to one team three times in one season, so the Steelers deserved everything they got last year. If a team can beat us three times, they deserve success.