Competition pushes Soccer Academy keeper
May 22, 2009
by: Dan Tierney
Dallas Jaye stands on his line, facing a firing squad consisting of seven fellow goalkeepers shaped in a semi-circle.
With all of the keepers armed with a pile of soccer balls, IMG Academy soccer program goalkeeper coach Scott Bowers randomly shouts out a number from one to seven, and the corresponding shooter drives a powerful shot from 15 to 20 yards out.
The shots come in rapid succession, and Jaye, as all of the keepers have to do when it's their turn, bats a ball away, then pops up immediately to face the next shot. And again. And again.
Jaye loves every minute.
"Every day, we come out and pretty much battle," the 15-year-old said. "If we get into just a basic daily routine, people can get lazy, but we keep each other going."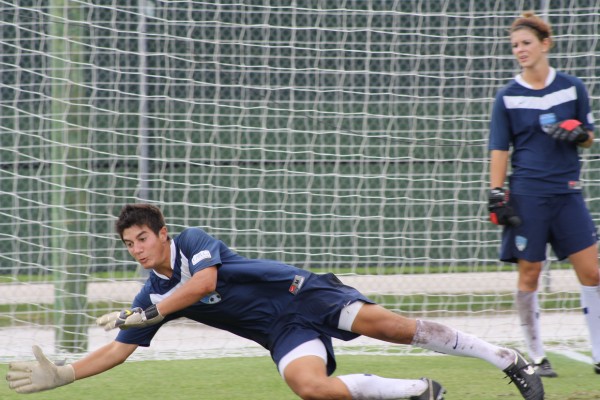 Nearing his second full year at the Soccer Academy, Jaye has plunged into the Academy's requirements of hard work and dedication. Hailing from San Francisco, Jaye serves as one of the two goalkeepers who alternate as starters for the U-16 team in the Academy League, which consists of the top club teams in the nation.
Like many athletes who first come to IMG Academy, Jaye quickly saw the difference from his hometown soccer regimen.
" Soccer there was almost something to do in your spare time," he said. "Here, it's pretty much life for all of us. I told my dad after one year here that I'm not going back home."
In the gym, he's put on 10 pounds of muscle with the Athletic & Personal Development program and improved his quickness and agility. He's also learned how to set aside time for a schedule that includes daily homework, schooling, practice and gym work. On the field, Bowers has seen the improvement first-hand.
"Technically, Dallas is very clean," Bowers said. "He has a chance to play at a high level because he works so hard."
At the U.S. Soccer Development Academy's Spring Showcase that attracts hundreds of teams coming up this weekend, Jaye will likely see some of his former teammates.
"When I first came here, they didn't get it," Jaye said. "Now, they understand.
"I'd highly recommend the Soccer Academy to someone who's serious about playing and improving."