The flight of Birdman: IMG Academy basketball program's Coach Barto recalls his time with Chris Andersen
May 27, 2009
by: Dan Tierney
In early 2008, Dan Barto, now the post-graduate national program coordinator for the IMG Academy basketball program, worked one-on-one with Chris "Birdman" Andersen.
Birdman was suspended from the league and looking to get back into shape and find a team that wanted his services. Now that Birdman has become a star in the 2009 NBA playoffs with the Denver Nuggets, we've dusted off Coach Barto's report from February 2008 regarding his time spent with Andersen: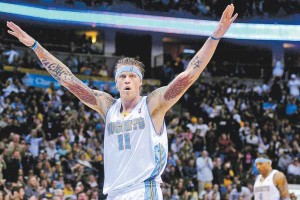 My first face-to-face meeting with the Birdman was one for the ages.
Knowing that he was going to begin his training on court at 8 a.m., Chris insisted that we meet at 7 a.m.As I gave him directions to the gym, I waited near the closest parking lot to the gym until I received a call in which I was given directions to the parking lot on the other side of the gym.As I pulled the golf cart towards Chris' jacked-up monster truck, he honked the horn to let me know it was him. Of course, the sound that the horn made was not a beep, but a melody that lasted about eight seconds.
The Birdmanjumped down from the truck in his flannel shirt and boots with a 24-ounce cup of coffee.Being nervous about the initial meeting, I waited as Chris said that he had to put money in the parking meter.The parking spot required a $3 daily fee.Chris reappeared shortly in a panicked state, claiming the parking machine ate his debit card.
After inspecting the machine, I found Chris' card wedged deep inside the dollar bill changer. We eventually removed the card and worked our way to the court, but those 15 minutes of visuals and conversation were classic.
Over the course of the next two weeks, I learned a couple of important things about Birdman:
1.) He is a joy to be around 100 percent of the time
2.) He will work until exhaustion
3.) He is professional and attentive
4.) The dude can shoot. I repeat: The dude can shoot
We laughed and worked and laughed harder.Chris interacted with everyone whose path he crossed, from the janitors to the rebounders to the MLS stars who spoke no English.An absolute animal in the weight room and a soft rim's worst nightmare, Chris never wanted to leave the court.There were days he would stay and work out with the high school group at the end of the day
I am rooting for the Birdman because he has a great soul and a big heart.He was not an enabled showboat. He took the long road.When he got to a fork in the road of his career, he stopped andtook a couple hits, and now it is full steam ahead into helping a teammake a deep playoff run.