DeJuan Blair drops pounds at IMGA, shoots up NBA Draft boards
May 29, 2009
by: Dan Tierney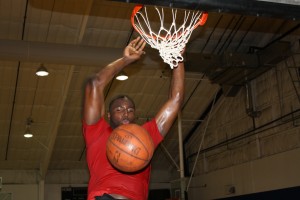 Tabbed as a mid-to-late first-round pick after the college season ended, Pitt's DeJuan Blair came to the Pro Training Center at IMG Academy in hopes of getting in better shape and improving his game.
With reports coming out of Milwaukee that the Bucks are very interested in taking Blair at No. 10, it's safe to say his time at IMGA working with David Thorpe and Mike Moreau was well spent.
At a workout in Milwaukee this week, Blair weighed 275 pounds -- a drop of nearly 40 pounds from a month ago. He also registered a 7-foot-2 wingspan.
Said the Milwaukee Journal Sentinel's Charles F. Gardner, "So it's no surprise the Milwaukee Bucks have more than a passing interest in Blair, who could fill a major need at the power forward spot and might be available when the Bucks' No. 10 slot comes up June 25."
Check out the whole story here.