Midfielder works toward college at Soccer Academy
May 29, 2009
by: Dan Tierney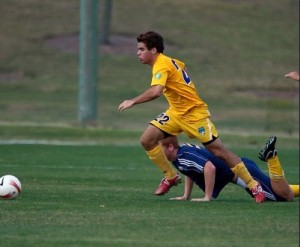 With the school year quickly ending, Federico Benavides doesn't have the typical high-schooler reaction to the upcoming break.
"I've made some really great friends here," said the IMG Academy soccer program U-18 midfielder and Monterrey, Mexico native. "I'll be sad when I leave for the summer."
After a year training at the Academy, Benavides, a rising senior, already sees a noticeable difference in his game and maturity level. He's become more independent, socially diverse and responsible. All of these things, Benavides hopes, give him a better shot at going to and succeeding at college.
On the field, Benavides said his talent has raised "dramatically," and coach Marcelo Carrera agrees.
"Federico has an unbelievable work rate and a good attitude," Carrera said. "He is a player who comes before and stays after training to further develop his game. He has shown tremendous improvement throughout the year and has become a greater threat to opponents around the goal."
Around campus and in the dorms, Benavides has made friends from around the globe: Bahamas, Brazil, England, Nigeria and Russian, just as examples.
"I think I've really grown as a person," he said. "It's a great experience."