Prep football star's time at IMGA helps get him spot on UGA football team
May 29, 2009
by: Dan Tierney
For a kid growing up with dreams of playing football at the University of Georgia, the voice on the other end of the phone probably couldn't have been trumped by any president, pope or prophet.
"This is Coach (offensive coordinator Mike) Bobo from the University of Georgia," Ben Reynolds remembers hearing. "We've heard about you, and even though we can't offer an athletic scholarship, we want you to be a part of the team as a preferred walk-on if you want it."
And Reynolds definitely wants it.
Hailing from Bainbridge, Ga., Reynolds over the last four years has spent weeks at a time training at the Athletic & Personal Development program. Holiday breaks?The all-conference offensive lineman travels to IMG Academy Athletic & Personal Development programsin Bradenton. Summer breaks? The valedictorian at Bainbridge High is at IMG Academy Athletic & Personal Development programsfor multiple stints.
After his father found IMG Academy Athletic & Personal Development programsand its impressive list of professional athletes trained on the internet, Reynolds spent an initial week after Christmas training at IPI. He was hooked.
"The workouts here were just so much different than anything I had done before," he said. "On the field, it's not about the huge differences, but the small things that I've noticed. It's the quarter-second or half-second quicker start, the slightly sharper turning. That's all you need in football. In a play that only lasts three or four seconds, that quarter-second head start is a big deal."
While at IPI, Reynolds chose to do the all-encompassing training, which includes mental conditioning, social training at game on and working on better nutritrion. He's subsequently applied all three to his life.
* Mental Conditioning with Trevor Moawad: "When you're not thinking right and let yourself get into a slump," Reynolds said, "it's a self-fulfilling prophecy. You think you're going to be bad, so you are bad and it just keeps continuing."
* game on with Steve Shenbaum: "If you go to talk to college coaches and you can't verbalize what you're trying to say," Reynolds said, "then no matter how good you are, they will have a suspicion that you won't fit in well. You want to say all of the good things about yourself without sounding like you're bragging."
* Nutrition with Sally Parsonage: "Last year," Reynolds said, "I came down after taking off three or four months because of shoulder surgery. I was pretty chunky. By the end of two or three weeks, I was back to playing shape."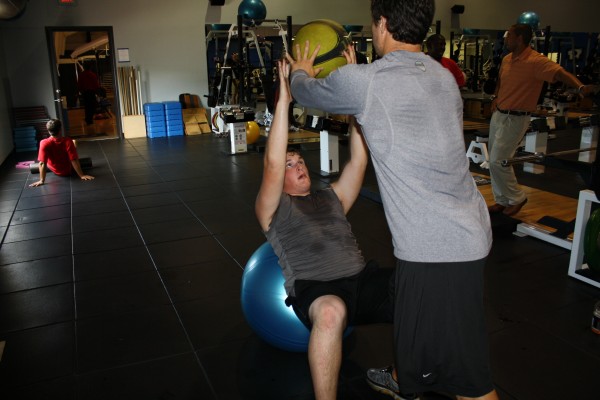 Soon, Reynolds, who currently plays at 6-foot-2 and 250 pounds and projects to be a center in college, will head to UGA. He'll likely redshirt his freshman year, but his career outside of football is looking just as bright.
He'll attend UGA free of charge thanks to winning a Foundation Fellowship (one of 14 winners out of 1,100 applicants) due to his 4.0 gpa and 2,200 (out of 2,400) SAT score. He'll get to study for a month at Oxford, which rivals his excitement for stepping on the field with current UGA players.
He's confident his time spent at IMG Academy Athletic & Personal Development programswill help him compete with some of the top athletes in the nation.
"So often, coaches just tell you to do better or be faster," he said. "How do you just 'be faster?' If you don't know what you're doing, you don't know what to fix. That's the best part about coming here.
"They'll help fix you, not only athletically, but mentally, socially and nutritionally."