Harrison brothers get Boston Globe feature
June 02, 2009
by: Dan Tierney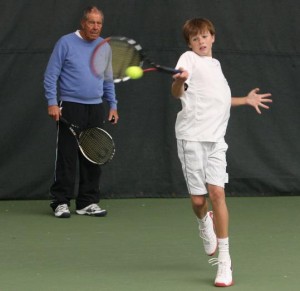 Brothers Ryan and Christian Harrison of the Nick Bollettieri Tennis Academy/IMG Academy represent two of the top American youth tennis players. The duo recently got a large feature in The Boston Globe.
Here's a snippet:
"But at 5 feet 3 inches, 100 pounds, Christian Harrison looks more like one of the ball boys who crouch by the net and dart after errant shots.
"Harrison, 14, is the athlete of the future. He turned pro last year and already has a lucrative endorsement contract. Tennis Hall of Famer Guillermo Vilas saw him play as a 10-year-old and gushed that he was the best 10-year-old he had ever seen.
"Harrison won the 2008 World Junior Tennis Finals (boys and girls 14 and under) in the Czech Republic, helping Team USA win a championship, and he entered this year ranked No. 213 in the International Tennis Federation for males 18 and younger."