DLGA/IMGA Alum, Jeanne Cho-Hunicke, keynote speaker at commencement ceremony!
June 03, 2009
by: The Leadblogger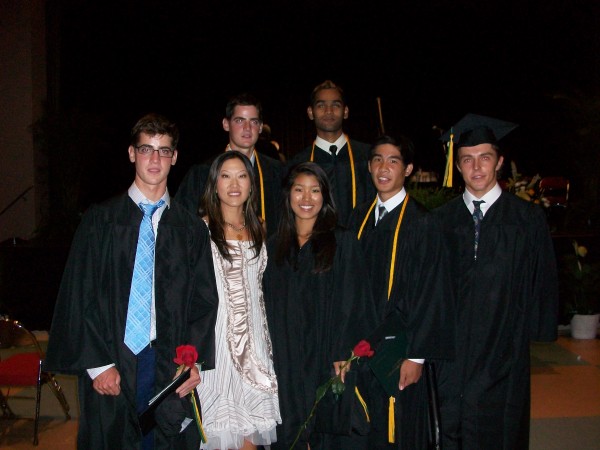 Jeanne Cho-Hunicke, a former David Leadbetter Golf Academy at IMG Academy student, was invited back to St. Stephen's 2009 graduation to be the keynote speaker. St. Stephen's invites each year a past alum who graduated 10 years prior.
Jeanne was a full time student starting in 1995 and was a student at DLGA throughout her four years of highschool. Jeanne is one of many great DLGA/IMG success stories. As you will see in her speech below, she came to the states, not speaking the language proficiently and was a young golfer to the game. Her tournament scores the first year she arrived were in the 90's and four years later, as a 17 year old senior in highschool, she qualified for the U.S. Women's Open!
Here are Jeanne's words to the St. Stephen's graduates.
Good evening Saint Stephen's faculty, family, friends and new graduates! Mrs. Pullen, thank you for the kind introduction and for inviting me to be part of the special Class of 2009's graduation.
It is truly an honor to be speaking to you tonight and thank you for giving me a second opportunity to attend a Saint Stephens Graduation. I say this because the first time I was given the chance to be up here, I had to miss it. Ten (10) years ago, I graduated from Saint Stephen's but I didn't get to walk like most graduates do. Instead, I was walking down a fairway at the Old Waverly golf course in Mississippi, playing in the 1999 U.S. Women's Open as the youngest player in the field. For those of you who don't know, the U.S. Women's Open is the most prestigious tournament in Women's golf.
So as a 17-year-old Saint Stephen's graduate, I earned my way into the field and could not miss my first opportunity to get a glimpse of my ultimate dream: playing on the LPGA- even if I had to miss my high school graduation.
Golf became my passion at a young age when my parents introduced me to the game. I was born and grew up in the suburbs of Paris, France, where golf was not a popular hobby for children. At the age of 13, I was given the opportunity to move to "Sunny Florida" to hone my golf skills and my English skills.
The chance to work with the instructors at the David Leadbetter Golf Academy and receive a fine education from Saint Stephen's Episcopal School, was too good to pass up - even if I had to leave my family and friends back home. I wanted to learn from the best and give my best chance to become a successful golfer and a successful person. So in 1995, when my parents dropped me off in Bradenton, they reminded me of how important education was and that with golf, I had to expect the best but be prepared for the worst. There were no guarantees in a career such as playing golf professionally, and there were no guarantees that I would ever get the chance to play against the world's best.
Knowing this, I worked hard on my golf game, but harder on my studies. It meant that I had to be really good at both (not to mention that I hardly spoke English when I moved here).
Life was not easy when I moved here. The language, the culture, the FOOD and the lifestyle were obviously different than back home. I missed my parents and although I made new friends, I missed the ones from home. When homesick, I thought of quitting altogether and moving back to France. But I didn't. I continued to stay focused on my goals, my aspirations and my mission. I chose to take advantage of my opportunity here at Saint Stephen's, where I was taught some important values in life and was encouraged to aim for honor and excellence. All my teachers and new friends embraced me in spite of my heavy French accent and were nothing but supportive. For that, I am so thankful.
They played a big role in helping me learn about the American culture and the English language. My new life in the U.S. led me to amazing new experiences and many life lessons which have influenced me to this day.
After four (4) years of investing myself at Saint Stephen's, I was accepted into the University of Florida to study and play golf on a full scholarship. By then, I had already started dreaming of playing on the LPGA tour. But I knew from my experiences at Saint Stephen's, that being good in the classroom needed to be my priority. I wanted to get my bachelor's degree. As quickly as my time in high school had gone, my four (4) years in college went by just as fast. I was so busy trying to excel as a student, as an athlete and in becoming a responsible adult. I faced a lot of peer pressure and social issues that have taught me how to deal with problems I face today. My time at UF was very memorable and my hard work was slowly paying off. I made life-long friends. I was co-captain of our women's golf team for 4 years. I enjoyed winning several college tournaments with my team and as an individual. I played in 2 US women's open as an amateur, knew how to speak four (4) languages fluently, earned all kinds of academic and athletic awards, and graduated cum laude with a degree in Quantitative Sciences. By hearing that, you would think that a bright academic future was ahead of me. Certainly, for me, the easier path would have been to apply for a job which utilized my resume and my language-speaking skills. But I didn't. I wanted to persevere and believed I could pursue golf as my career.
So after my college graduation in 2003 - which I did get to attend -, I turned professional. It was the beginning of my journey of living my dream. After failing to get on the LPGA tour the first time, I was shaken awake by realizing how competitive women's golf had become over the years. Life as a "professional golfer" was not so glamorous after all!!! I realized I had dues to pay. I had mediocre results and many tearful nights. I struggled paying my bills, was living out of my car, and getting into the real world was a tough transition for me. After a while, thoughts of quitting came through my mind more than a few times. However, quitting was just as hard for me to do. I worked so hard to get to where I was that I started believing that the harder you work, the harder it is to quit. After all, golf was a huge part of my life. I met my husband, Brian, on a golf course while playing in a tournament. I made my best friends through golf and met a lot of incredible people while traveling all over the country. I also had the experience of a lifetime when I participated in a golf TV reality show called: "The Big Break V: Hawaii" thanks to which I got a taste of what it's like to be a celebrity. While the show was running, I was recognized in grocery stores, malls and random airports... My friends and family were rooting for me in front of the TV... I must confess that the whole experience was a ton of fun! For those memorable times, I am so grateful. So in spite of the tough times on the golf course, I was learning the greatest lessons of life, maturing and building character.
After 3 long grueling years on the mini tours, I finally earned my LPGA tour card through Q-school, which took place about 10 days after I got married! I can truly say that it was the most memorable couple weeks of my life. Now, as a third-year member of the LPGA tour, I am living my dream and can say that I am and will continue learning new lessons each day.
So with all that said, I encourage all of you to "follow your dreams". But what does that exactly mean?
A famous French philosopher named Paul Valery once said:
"The best way to make your dreams come true is to wake up."
When I first read this quote, I laughed. But then, I saw the depth of its meaning. Everybody can dream dreams but is everybody ready to wake up and pay the price to make them come true? As a kid, I was dreaming about traveling all over the world and playing on the LPGA tour. I was fortunate enough to be surrounded by great leaders and coaches that repeatedly told me that:
"Champions make sacrifices. Champions go the extra mile." So my sacrifices were about making the "NOT-SO-FUN" choices. Chasing my dream was about giving up vacations with my family and friends because the holidays were filled with golf tournaments. It was about putting golf and school before dating. It was about choosing to go to bed early when my friends would go party until late the night before an early team workout. It was about getting ahead in my school work so that I could go to my golf tournaments and not fall behind, as well as having a positive attitude even during the most difficult times.
All these choices may not sound cool to you. As a matter of fact, they didn't seem cool to me either at the time. However now, I look back and would not change a thing. I don't feel like I missed out. I had faith that going the extra mile would pay off some day... and it did. And even if it hadn't, I would have had no regrets about having chosen to do my best.
Today, as I am standing here, I want to share with you that I continue to have dreams. I dream of walking down the 18th fairway with the crowd cheering for me when I win my first LPGA tournament. But again, I have to wake up and work hard to reach my goal.
It's been a fun ride so far and I am thankful to all my teachers who are still here at Saint Stephen's for being great mentors during my teenage years, to my coaches who helped me develop not only as a golfer but as a person, to my family who sacrificed for me in more ways than I would have ever expected, to my mom for her way of motivating me over the phone, and to Brian, who is here tonight, for being the best husband and my best friend through the good and bad times.
Finally, particularly on tonight's occasion, I want to express my gratitude to Saint Stephen's Episcopal school for the wonderful foundation and education it has provided me.
I hope that you feel the same way that I do and are confident that the lessons you learned from this institution will be strong assets throughout your life.
Congratulations, graduates of the "Class of 2009".
Be proud of yourselves and be grateful to your teachers. And whatever you choose to do in the future, dream big!
Dream all you want but wake up and do your best as you begin your journey to success.
Thank you.