U-19 girls lose in thrilling State Cup final
June 03, 2009
by: Dan Tierney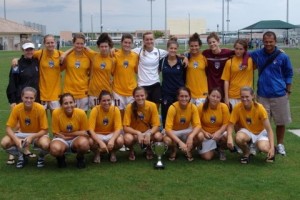 After advancing earlier this month, the IMG Academy soccer program U-19 girls' team participated in the Final Four of the Florida State Cup this past weekend.
In the semifinal, the U-19s dominated the Kendall Soccer Coalition. Despite controlling much of the possession, the U-19s struggled to score. Soon, the pressure became too much for Kendall, and the U-19s scored four straight. Twins Shelby and Sydney Payne both had a goal, as did Erika Tymrak and and Stevie Jones.
In the final, the U-19s faced HC United Red -- the same team that the girls made a late comeback against in a 4-3 win two weeks before. This time, the U-19s couldn't overcome some bad luck and a talented HC United team.
After conceding a goal within five minutes, the U-19s earned a penalty kick near the end of the first half, but lightning stopped play before the attempt. After a 40-minute break, the U-19s missed the PK. Two minutes later, HC United scored a second goal on a counterattack. Sydney Payne scored a late goal, but the U-19s couldn't complete the comback.
"We cannot let one game define this team's season," said coach Giovani Fernandes. "I am extremely proud of the individual development of each player throughout the season and thrilled by the high level of performance that we maintained throughout the year."