World-renowned tennis umpire talks to Bollettieri students
A native of Sweden, Lars Graff has served as a full-time ATP umpire since 1994 and worked matches at virtually every level, including Grand Slam and Olympic finals. With more than 5,000 umpired matches to his credit, Graff is spending time at the Nick Bollettieri Tennis Academy/IMG Academy and talking to junior tennis players about tennis etiquette and rules.
Lars Graff on…
What he wants junior players to know and junior tennis culture… I talk to them about fair play, bad behavior, how they should behave on the court, and how knowing the rules could benefit them one day. For example, if your opponent drops a ball out of pocket during the play, you replay the point. The second time it happens, you get the point. It's called a "hindrance."
In junior tennis, 99.9 percent of parents are great. But someone needs to tell some parents not to act a certain way. Maybe nobody is telling the kids, either? If a kid is misbehaving, you take them off the court. I tell kids all the time that what you see on TV is different than junior tennis. In junior tennis, we have to have rules to stop kids from yelling obscenities or breaking rackets. Kids see professional players whacking a ball against a wall or yelling at the umpire and think it is okay. What they don't see is the big fine that the player gets after the match.
The pressure on umpires… I think there's more pressure today. There is more prize money. There is more television coverage. Every word that I tell a player goes out to the world. If a player says something to me, my answer is on YouTube 10 minutes later. If you want to be on the top, there is always more pressure. The last match I did was the Federer/Nadal final in Madrid. Fifteen thousand people watching in person and millions watching on television, and the match is in the one player's (Nadal) home country. Today, we expect consistency. It doesn't matter if it's Court 21 at the U.S. Open or Centre Court at Wimbledon.
Staying at a peak level… I always stay updated on any new rules or any upcoming new rules. I watch a lot of tennis matches. I watch how other umpires handle situations. I watch how players react to certain situations. I try to study the personalities. Then, I try to keep a very high level of concentration. If I lose concentration for a tenth of a second at Centre Court, the whole world will know about it. I also try to stay fit. I exercise and play tennis. The players, I think, want umpires who are a part of the game. I think experience is a big deal.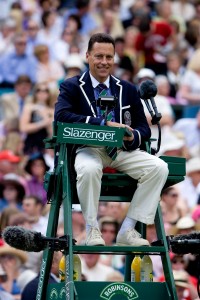 Being a pseudo-celebrity in the tennis world… People ask me to sign autographs and take pictures. In some countries, they're screaming at you to take pictures. I think it's odd, and I always avoid doing any of that when I'm on the court before or after matches. If I'm off site and someone asks me for a picture or autograph, I'd do the tennis world a disfavor by not doing it. It's part of my job to contribute to the tennis community. It's just like Nick Bollettieri or (NBTA coach) Red Ayme. People in Sweden know Red because he coached Tommy Haas, who played a lot in Sweden.
Not drinking much of anything before matches… It's true. It's very important. One year in Rome, it was a Coria and Nadal match. The match lasted 5 hours and 33 minutes. The match started at 3 p.m., and it was about 90 degrees. When the match finished, the sun was down and it was about 55 degrees. I never moved from the chair. As part of my planning, I brought a sweater with me. A colleague of mine did a men's doubles final many, many years ago. It was rainy and cold. After the fourth set, he goes, "Guys, I've got to go to the bathroom. Do any of you have to go?" They said, "Of course." So all four players and the umpire left the court and went to the bathroom. It's part of preparation. You shouldn't drink a bunch of coffee before a match. You should eat right.
Rumors that Pete Sampras requested that Graff not umpire his matches… I had never heard those rumors. (Ed note: Graff overruled match point, giving Patrick Rafter a match against Sampras).  Of course, Pete was mad. I understand his reaction. He wanted to win the match. If a player gets upset at an umpire, that's part of the game. I've had a lot of discussions with tough players and still do their matches. Some players automatically trust that I made the right call. Other players, I have to convince them that I know what I'm doing and made the right call. (Ed note: As an active umpire, Graff cannot talk about details regarding current or past matches. In the recent Federer/Nadal final, Graff only had to make one ball mark inspection, when many umpires have to do multiple in a match of that magnitude).
For me, I start every match at zero. If a player does or says something to me in that match, I don't carry it to the next match. I can't. If you take things personal, you're not doing your job as an umpire. I've seen umpires in matches in the past screaming back at players. That doesn't help.
Memorable quotes heard from the chair… I remember one American player. I made two overrules. The first was on the baseline, and it went to Hawk-Eye. I asked if he wanted to challenge it, and he declined. On the second, it was on the baseline and Hawk-Eye again. I asked if he wanted to challenge it, and he said, "Is Hawk-Eye there so you should look good and I look bad? I'm not challenging it."
Another German player years ago comes up to me and says, "That serve was out." He showed me the ball mark, and it was out. I said, "I know, I made a mistake." He said, "Wow, I've never heard that before," and he just walked back. That took the edge out of it. It's better to be humble. I know I made a mistake, but that doesn't mean I'll make a mistake the next time.
Watching his children's matches… It's very tough. Whatever mistake the umpire does, even if it's the worst call in the world, I cannot say anything. If my opponent calls my child a bad name, I can't say anything. I just stand there stone-faced. I'm not getting my name in the headlines for arguing with an umpire or yelling at my child's opponent