MLB Draft Scouting Report: John Ryan Murphy
June 08, 2009
by: IMG Baseball Academy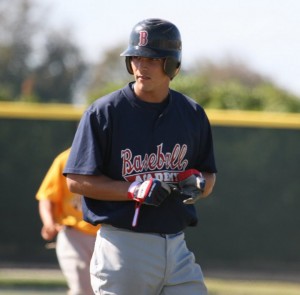 John Ryan Murphy leaped onto the scouting scene after the 2008 summer when he set nearly every offensvie record for the highly regarded Florida Bombers summer team; a team that has had the likes of Eric Hosmer, JP Arencibia, and Jamile Weeks (All First Round Picks).
Murphy continued to impress scouts throughout his senior season at The IMG Academy School at IMG Academy where he hit .627 with 11 home runs and 66 runs batted in while leading his team to a 31-1 record anda national ranking (#8).
Below is a collection of the differenet scouting reports from various baseball sources such as Baseball America, ESPN.com, MLB.com, andPGCrosschecker.com with the most recent reports listed first.
Baseball America
The scouting consensus seemed to be that Murphy had risen to the top of the pile of Florida prep catchers by the end of the season, after an amazing spring playing for the IMG Academy in Bradenton. Murphy hit .627 with 11 home runs in 102 at-bats, rapping 34 extra-base hits overall and striking out just four times. That built off a strong summer and fall performance, as Murphy starred for the Florida Bombers during Connie Mack play and the World Wood Bat tournament in Jupiter, Fla., in October 2008. Murphy's bat attracts most of the attention, as he has a short, sharp righthanded swing that generates good bat speed and plate coverage. Scouts grade his hit tool ahead of his power, though he's expected to produce average power with wood. He's also athletic, having made a shift from outfield (and occasionally third base) to catcher. He's shown he's more than capable of handling catcher, showing plus arm strength, solid receiving ability and a quick transfer. The Miami recruit has intelligence and makeup needed for the position, as well, and had hit his way into supplemental round consideration.
Draft Chat With John Manuel
May 28, 2009
Kyle (Middletown): BA had JR Murphy ranked 95 in your top 100, which would put him in the 3rd round range, but said he hit his way into supplemental consideration. Where do you think he ultimately falls, and how do you like his odds of making it as an above average regular?
John Manuel: Very split camp on Murphy. Teams that like him as a C could take him as high as the supp-to-2nd. If you don't believe in him as a C, then his value is much lower, he's maybe at 3B or a OF, and the bat is more of a hit bat than a power bat. So much talent in FL this spring, I have gotten a lot of mixed reports on a lot of players and frankly I haven't detected a strong consensus. Just depends on how a guy was seen. I've talked to four people at length on Murphy and they're split on the C.
Draft Scouting Reports: Catchers
This year's class is extremely deep, if not top-heavy
May 19, 2009
Second-Round Talents
#5. J.R. Murphy, IMG Academy School, Bradenton, Fla., B-T: R-R
Draft Tracker Chart: May 13
Keeping track of prospects at each position
Murphy, J.R. The IMG Academy School, Bradenton, Fla.
Formerly an outfielder and third baseman, Murphy's polished bat has produced supplemental-round buzz
Draft Tracker: May 13
Austin Maddox, c, Eagle's View Academy, Jacksonville
At 6-foot-3, 225 pounds, Maddox is an ox with two big tools—raw power and arm strength. However, the game doesn't come easy to him, he lacks fluidity, and the rest of the prep catchers in Florida have caught up to him or passed him on many boards. Florida is loaded with prep backstops. Want defense? Take Steve Baron. Need power? Try Michael Ohlman. Need a little of both? How about Mike Zunino, or J.R. Murphy? Maddox hasn't had a great spring, and he's not looking great by comparison to his competition.
ESPN.com
Keith Law's Top 100 - Scouting Reports
John Ryan Murphy - #90
C | IMG Academy School, Bradenton, Fla.
Weight: 190 lbs.
Height: 6-0
Summary: Murphy is a recent convert to catching who has taken to the position well enough that he should stay there in pro ball. He's a top-100 prospect because his bat is likely to be an asset at that position. Murphy has a short swing with good bat speed but a flat swing plane that probably will produce line drives but not much power. Behind the plate, he has good energy and an above-average arm, but he hesitates before throwing as if he's unsure of himself. That will cost him if he doesn't smooth out his motion. His feet are still a little slow, again as if he's uncertain where to go, so this all may be a function of inexperience. He has good hands and has learned the position quickly. His bat probably would have played if he had stayed in the outfield or at third, but he has the potential to be an above-average regular as a backstop.
MLB.com
Draft '09 Scouting Video: John Ryan Murphy, Catcher
PGCrosschecker.com
Draft 2009: State-by-State Follow List - Florida
Allan Simpson and Anup Sinha
May 22, 2009
#13 JR Murphy, Catcher - The IMG Academy School at IMG Academy
SCOUTING PROFILE(3/1): Murphy doesn't stand out as a "showcase"-type prospect, but his big tool is his bat and he is one of the best performance hitters in the 2009 high-school class. Despite his modest frame, he generates excellent bat speed with a quick, short swing and has an advanced ability to handle the bat head and make adjustments. His power is more of the gap-to-gap type, but he has the juice in his bat to leave the yard on his pitch, as well. He is the latest, and perhaps fastest riser in what is shaping up to be a potentially-historic group of prospect catchers from Florida. Murphy has been primarily a corner outfielder to this point in his career, but has caught on occasion in the past and is expected to take a more active role behind the plate this spring. Though he needs to improve his side-to-side quickness, and his transfer and release, his overall defensive actions are improving. His arm strength is solid major-league average and his throws are usually around the bag. His ability to fully adapt to the position this spring will go a long way to determining where he is drafted. He could always return to the outfield, where his speed and instincts enable him to play center field now, though he would likely play a corner position at the next level. But it all boils down to the bat. Murphy has a very pro-style and polished approach at the plate, with a quiet, efficient load and very good balance through contact. He drives the ball hard to all fields and has surprising power for a moderately-built hitter. Murphy's most impressive accomplishments at the plate have come during the summer while playing for the Florida Bombers, the 2008 World Wood Bat Association 18-and-under summer champions. He hit .439-10-66 last summer and has broken Bombers hitting records held by players such as Eric Hosmer, Jemile Weeks and J.P. Arencibia-all first-rounders in 2008. As a 6-foot righthanded-hitting outfielder without plus speed, it's unlikely that Murphy would profile as a high-draft pick out of high school, but he could become a dominant college player and eventual high pick after three years at Miami. But that profile could all change this spring if Murphy impresses scouts with his work behind the plate.-ANUP SINHA / DAVID RAWNSLEY
UPDATE (5/15): Murphy emerged as a legitimate early-round pick this spring with both his bat and his work behind the plate. As the best hitter on an IMG Academy team that lost only one game all season but was not eligible for the Florida high-school tournament, Murphy hit a resounding .626-11-66 and proved beyond a shadow of a doubt that he was one of the most advanced hitters in this year's prep class. Fellow IMG players Blaze Tart, a transfer from North Carolina, and L.J. Mazzilli, the son of ex-big leaguer Lee Mazzilli and a transfer from Connecticut, also emerged as legit draft picks this spring, though not in Murphy's class. The lack of projection in Murphy's mature body is a concern for scouts, but they know what they're getting out of the shoot. He has a lot of work to do as a receiver and will have to work hard just to become major-league average defensively. But he is blessed with a very short release and average arm-strength, and that should make him a plus thrower in the future. The second round is not out of the question for Murphy.-ANUP
Borchering, Zunino, JR Murphy
Anup Sinha
Thursday, April 16, 2009
Murphy is a 5-11, 180 righthanded hitter with a nearly mature, medium-sized frame. There's slope to his shoulders and he's well-built in his hips and lower-half. I can see him upwards of 200 with maturity and further weight training by the time he's 23.
Two things stood out the most about Murphy: his bat and his very quick release behind the plate.
Murphy has jumped up a lot of Florida area scouts' draft lists this spring because he's such a polished hitter; it's possible now that he goes in the first two rounds. I had only a brief look at him in the fall, so I was curious to see what the buzz was about. Murphy showed a very mature approach at the plate. While his projection and upside as a hitter will be questioned by scouts (as compared to, say, Bobby Borchering), he can hit in the present with just about anyone in high school.
Murphy went 3-3 with a double, a homerun, and a walk against mostly 80 MPH pitching. From the right side, he has a square stance and short stroke to the ball. During the homerun derby, he was much longer and his trigger had a wrap in it. But during the games, Murphy is compact with good reactions to the ball.
In his first at-bat, he stayed on a pitch out over the plate and drove a single to center field. In his second at-bat, Murphy jumped on a first-pitch inside fastball and hit a 400-foot homerun over the left field fence. In at-bat #3, he jumped on the second pitch and hit a double to the left-center field wall. In his last at-bat, Murphy took all six pitches and earned a walk.
I didn't see him swing at one bad pitch. I didn't see him swing and miss, come to think of it. And he never looked off-balance. His approach is quite advanced and he's a guy who should adjust to rookie-ball quickly.
Scouts will question the bat projection because he's nearly mature with his body and his hitting actions are not smooth or loose. Murphy swings with effort (much like a pitcher who throws with effort) and his body is relatively stiff as a hitter. It doesn't look pretty. Of course, it's the results that matter in the long run but smooth, loose actions are considered an indication of a high school hitter's potential to improve. If he keeps hitting all the way up, no one will care.
Murphy has played in numerous Perfect Game Tournaments and at the 2006 Underclass Showcase, our scouts were already impressed with his polished approach at the plate. So it seems he's been a pure hitter for a long time.
Defensively, I graded Murphy's hands as average but his crouch as below-average. He didn't seem real comfortable and a few times he was out of position to block balls. I do believe that with hard work he can make himself an adequate or average major league receiver.
Murphy has a true catcher's throwing motion, releasing the ball right from his ear. He also has quick feet and what I graded out as 60 arm-strength from the pregame. His only pop-time in the game was a 2.08 where he got caught up and took an extra step (still throwing the runner out). I believe he can and will do better than that in the future and I'm not shy to project him as a plus thrower down the road.
My only running time on Murphy was a 4.64 on a turn in which he pulled up. Watching a stolen base attempt, I would have graded him as a 40-45 runner. It's enough to make the outfield a possibility if his receiving doesn't come around in the long run, but I think just about everyone will want him first as a catcher.
Murphy has signed with Miami.