Start spreading the news, Yankees take Murphy with second pick
June 10, 2009
by: IMG Baseball Academy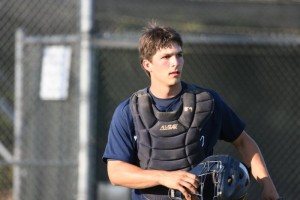 You can "start spreading the news". He might not be "leaving today" but he certainly wants "to be apart of it", "New York, New York".
John Ryan Murphy, the 2nd pick of the New York Yankees, may not be able to recite the lyrics to "New York, New York." He probably couldn't pick "Ol' Blue Eyes" out of a lineup and he might mistake the "city that never sleeps" for Vegas. But one thing is for sure, Murphy plays a premium position and can flat out hit.
The Bradenton local has called IMG Academy home for the last 4 years and under the tutelage of IMG Academy baseball program Director, Ken Bolek, Murphy has become one of the most polished high school hitters in this year draft class.
How did he become the hitter he is today? He doesn't have to try to remember the valuable lessons from hitting coaches past. Murphy's only hitting coach has been Bolek; since 8 years of age.
So what does the 2nd round pick of the most historic Major League Baseball franchise do the day after the draft? He shows up to the ballpark, engages in some small talk and then its back to work with Bolek. On tap for today, video analysis before getting some repetitions in the cage.
Still waiting for things to sink in, Murphy acknowledges the hard work while finding time to enjoy the moment.
"It has been a lot of hard work," Murphy said while trying to collect himself. "I guess I'm starting to realize it will all pay off. This is obviously only the first of many things to come, but I worked hard up to this point, so I'm going to celebrate as much as I can before I get started."
What lies ahead? Only time will tell. But one thing is for sure, if he can "make it there, he's gonna make it anywhere"
"New York, New York"