Evaluating the IMG Academy basketball program's players in tonight's NBA Draft
June 25, 2009
by: Dan Tierney
Every spring, basketball players from the U.S. and abroad come to the IMG Academy basketball program with hopes of a future in professional basketball. From sure-fire NBA lottery picks to players simply preparing for a tryout with a lower-level pro club, each player in the Academy's pre-draft program/Pro Training Center with coaches Mike Moreau and David Thorpe has a different story and background. They share one thing in common - the desire to improve their game at the IMG Academy basketball program.
After spending a large chunk of time between the end of college basketball season and now with several of the top NBA Draft prospects, IMG Academy basketball program director Mike Moreau has seen first-hand what these players can offer. Here's some of his analysis on players who have come through the Pro Training Center this year:
Likely first-rounders
DeJuan Blair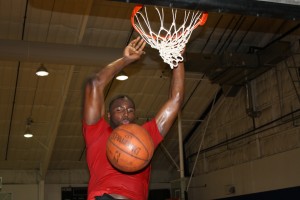 Vitals: 6-7, 270. Sophomore. First-team All-American and co-Big East Player of the Year for Pitt.
Project draft position (by cnnsi.com): No. 21 to New Orleans Hornets.
Moreau's thoughts: The impression some people have of him is that he can't play above the rim. As he said, "Coach, everyone thinks I'm fat. I'm just big." He's much more athletic and capable of playing above the rim than I thought. He's going to get rebounds and play hard defense. He's going to be impossible to keep off the floor for a team. It's easy to compare him to Glen "Big Baby" Davis, but I see him a Paul Millsap-type player. Any team he goes to is going to love him.
Earl Clark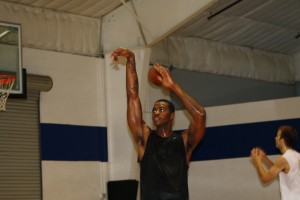 Vitals: 6-10, 225. Junior. Led Louisville in points, rebounds and minutes.
Projected draft position: No. 19 to Atlanta Hawks
Moreau's thoughts: His versatility is what makes him so valuable. He can play both forward positions. He's a Lamar Odom-type player, and Lamar showed how valuable he is in the playoffs this year. He can defend better than people think. He showed here that he really wants instruction and is coachable. I think people are going to be pleasantly surprised by him.
Jrue Holiday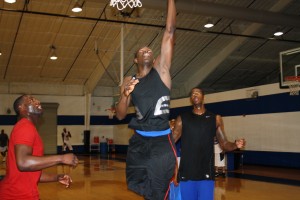 Vitals: 6-4, 200. Freshman. Gatorade National High School Player of the year as a senior and started every game as a freshman at UCLA.
Projected draft position: No. 8 to New York Knicks.
Moreau's thoughts: He's so good. You don't know how good a guy is until you're on the court with him. He's just got all of the tools. He's got length. He can shoot. He's got the feel that good point guards have, despite that he's still so young. To be that young and be so polished was really surprising to me. He's got the IQ and character traits. He's got the total package.
Likely from the late first round to anywhere in the second
Nick Calathes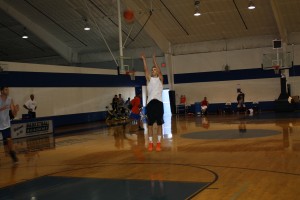 Vitals: 6-5, 185. Sophomore. Led Florida in points, assists, steals and minutes.
Projected draft position: No. 28 to Minnesota Timberwolves.
Moreau's thoughts: He has a basketball IQ that's off the charts. He's not just a good passer, he's a great passer. He knows how, when and to whom to get a pass. Anyone who gets caught up in his perceived lack of athleticism isn't seeing the right things. He can see the floor unlike many others. I hesitate to make Nash comparisons, but he's got that kind of feel for the game. Everyone will love playing with him. He's got "it," whatever "it" is.
Likely on the bubble
Robert Dozier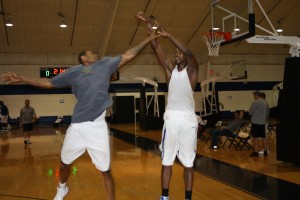 Vitals: 6-10, 205. Senior. Led Memphis in rebounding, second in points.
Moreau's thoughts: Dozier is long, skilled and athletic. He's versatile. He can pretty much any position.
Tyrell Biggs
Vitals: 6-8, 250. Senior. Started every game for Pitt.
Moreau's thoughts: A gritty, tough guy. Just a hard-working warrior. He will come in and give tough minutes, but he's got skill, too. He had to play a role at Pitt, and guys like him - good soldiers - get undervalued at every level. He's the kind of guy who will do anything a team asks of him.
Aaron Jackson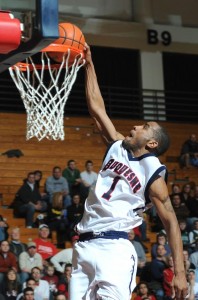 Vitals: 6-4, 185. Senior. Led Duquesne in scoring and assists and the team had its most wins in 30-plus years.
Moreau's thoughts: He's a big, tough and competitive point guard, who can score. He will score as a backup point guard, not just come in and distribute it. If a team needs a scoring point guard on their second unit, they'd be crazy to not pick him up. If you're going into a dark alley, take Aaron, and you'll be okay.
Ahmad Nivins
Vitals: 6-9, 240. Senior. Atlantic 10 Player of the Year for St. Joseph's University.
Moreau's thoughts: Very skilled and very athletic. He shot the ball better than I thought he would. He's another guy with great character. We were stunned by his athleticism.
Tony Gaffney
Vitals: 6-8, 208. Senior. Third in nation in blocked shots for UMass.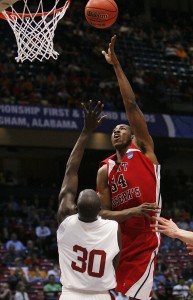 Moreau's thoughts: He's a hybrid of Chris Andersen and Renaldo Balkman, with an even higher motor and off-the-charts character. If you need a guy to rebound, block shots and give you instant energy, there's probably not a better guy in the draft. Every team needs a Tony Gaffney.
Russell Hicks
Vitals: 7-0, 250. Senior. One of the most skilled big men in the country.
Moreau's thoughts: He was asked to play with his back to the basket in college, and that's just not his game. He can run, and he's skilled. He's a Brad Miller-type player. There aren't many seven-footers who can run around and do what he can. He moves like an athlete, and not many seven-footers do that.