Bradenton Academics Roll Over PDL Rival
June 26, 2009
by: IMGAMarketing
The Bradenton Academics at IMG Academy are one of nearly 70 teams from around the country representing the United Soccer Leagues in the Premier Development League, which mainly consists of college-age players. The league will run throughout the summer.
This game lived up to all the anticipation; lots of contact, lots of fouls, and plenty of the Bradenton Academics offense. Bradenton (8-1-3) was able to maintain possession of the ball for most of the game, and rolled to a 4-0 win, their third consecutive shutout against the Central Florida Kraze (3-6-2).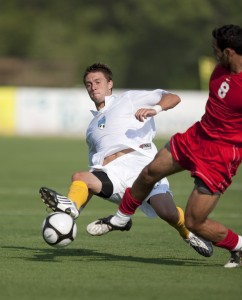 Bradenton has an eight-point lead in the Southeast Division with four games remaining, though the Academics have two games in hand over the Mississippi Brilla (19 points) and one game more than the New Orleans Jesters (19).
This one got off to a slow start after the Academics could not capitalize on numerous first half scoring opportunities. Twelve minutes into the first half, Bradenton had two big scoring chances, one on a cross that was headed over the net, next a strike by Gerard Voutier from 25 yards out clanked off the crossbar and the rebound was booted over the net as well.
Just minutes after that, Central Florida forward, Chin Dennis, took a pass and ripped a shot from the top of the 18 yard box, he too, connected with the bar.
Bradenton missed out on several other scoring chances in the first half, until in the 45th minute. After a foul just outside the box, Tauren Manders chipped the free kick to the far post, where it met the head of Ederson Lopes, and the Academics took a 1-0 lead into half time.
The Academics came out ready to attack in the second half, controlling the ball nearly the entire time, and struck early and often. In the 47th minute, Bradenton Forward, Zak Boggs, took a pass from Lopes and was able to put one by CFK goalie, Jhojan Obando, to extend the lead to 2-0. The goal was Boggs' ninth of the season, good enough to be tied for fourth in the PDL.
Just seven minutes later, Boggs received the ball from Bradenton goalie, Ryan Thompson, and took the ball down the right sideline, made a beautiful cross to Lopes, who then blasted the ball into the back of the net. 3-0.
And just three minutes later, Lopes got the ball on a break-away, made a great move around Obando, and dribbled it in to complete the hat trick.
The game was extremely physical from the opening whistle, as there were 22 fouls, 5 yellow cards, and a red card. To tally it up, that is 75 fouls, 14 yellow cards, and 4 ejections in the three games between these two teams, with the series finale to come on July 9th.
The Academics will take the field again on July 3rd, as they travel to Nashville to play the Metros.