Quick Hits with Coach Vince and Coach Nate
July 01, 2009
by: Dan Tierney
"You don't get paid for the hour. You get paid for the value you bring to the hour." -Jim Rohn
This is one of the reasons that I love the game of basketball. Jim Rohn is one of the elite business philosophers and an amazing motivational speaker, and this quote from him has tremendous application to the game of basketball.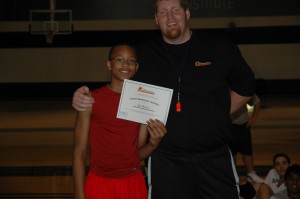 In basketball circles, people always talk about guys who are "gym rats." Gym rats are guys who can just spend all day in the gym. Being a gym rat is a great compliment for any player. It means that a player loves the game and has a great level of dedication to the game.
The question that you must ask yourself, however, is how much value are you bringing to your time? Asked another way - are you truly maximizing all the time you spend in the gym? This question must be asked because if great players were made just by spending time in the gym, then everyone would be great. The biggest key is how you spend that time. If you are not improving on your weaknesses or trying to develop your strengths, then you are not bringing the value necessary to accomplish your goals.
If you strive to become an elite player you must always work to bring great value to the time you spend on the court. So, if you are one of these gym rats, that is great. But understand that your game doesn't just improve by the number of hours spent in the gym. Your game improves by the amount of valuable work you put into your hours.
Nathan Vander Sluis is the Coordinator of the Developmental Program and a Player Development Specialist at the IMG Academy basketball program in Bradenton, Fla. Nate also played collegiately at Miami University (Ohio).